An evening reception on the hottest day of the year and in a convervatory! What's not to like?
Zinzi and Stephen hadn't planned on tropical temperatures for their wedding day. Well, it just doesn't happen here in the UK that often, does it?
But, with the mercury hitting 34 centigrade during the afternoon and not showing any promise of cooling down for the evening of dancing, this particular reception could have gone either way.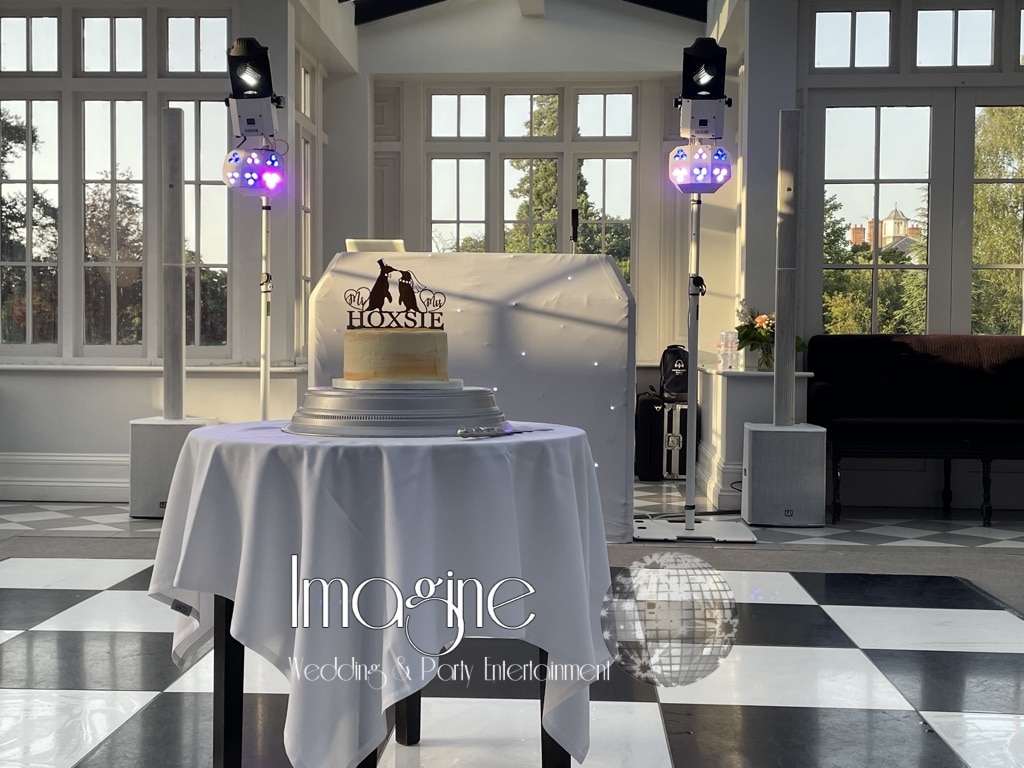 Thankfully, the guests were up for a party!
It's always difficult in extreme heat to get guests dancing, especially when there are outside gardens to explore in the sunshine, or tables located underneath air-conditioning units.  But….dance they most certainly did!
The setup used for Zinzi and Stephen's big night was my Classic White, it fits beautifully into the room at Swynford Manor without being too overpowering. Once the darkness descended outside (the room has a glass roof), the lighting was more than enough to provide a party atmosphere.
Regular readers will be used to me showing pictures of LOTS of guests throwing shapes on dance floors, whilst all of the photos for Zinzi and Stephen's wedding have around 20. 
It was a very small wedding with only 44 guests in total. However, all of those guests wanted to help Zinzi & Stephen celebrate in style. I absolutely LOVE small and intimate weddings like this – they give me the chance to get to know the guests,  tailor the music very specifically to what people want to hear/dance to, and also include each and EVERY guest with music they know (in this case including an elderly relative with a love of Tina Turner who happily waved her walking stick in the air!) It's those moments which last a lifetime!
There were  times during the evening where dancing was very limited…bear in mind the heat of the day and that'll be the reason why (I was absolutely sweltering behind the booth so what it must have been like to be dancing is another matter!)
The amount of dancing which did happen though is to be applauded.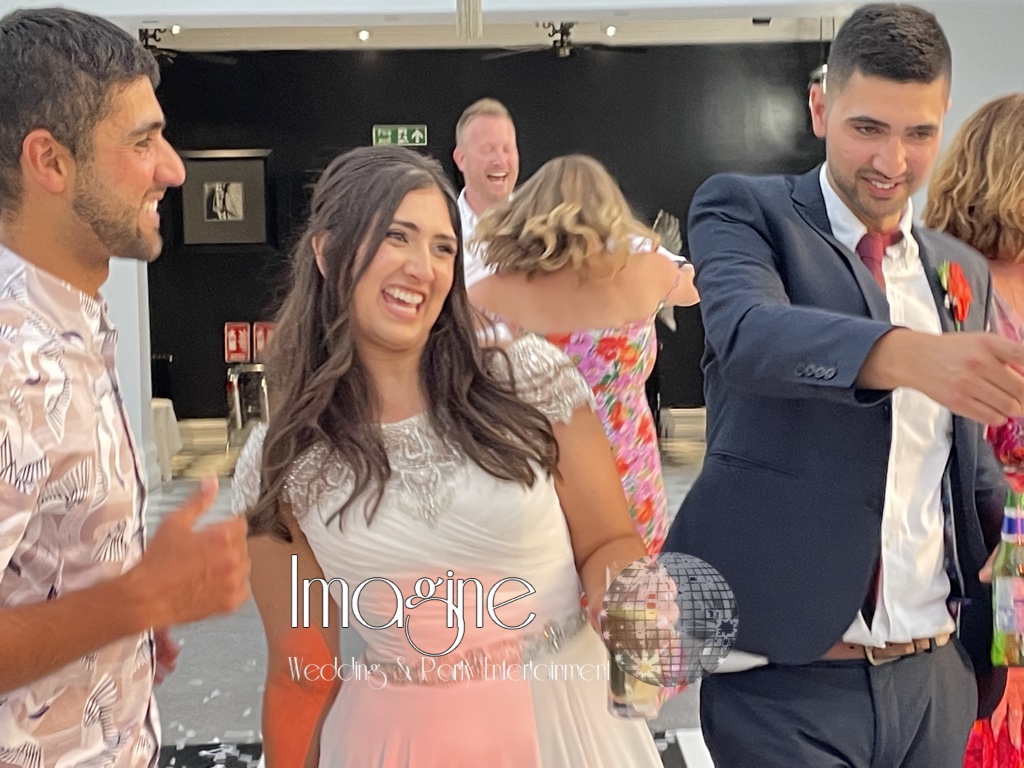 Musically, I'd been sent a small list of tracks that Zinzi and Stephen wanted to hear, the rest was up to my experience and the requests from guests.
THIS is the most successful formula for any wedding. It allows the evening to flow, and guests are more likely to dance to tracks THEY'VE requested, and also songs which I select which might not even have been thought of which follow the theme of the evening.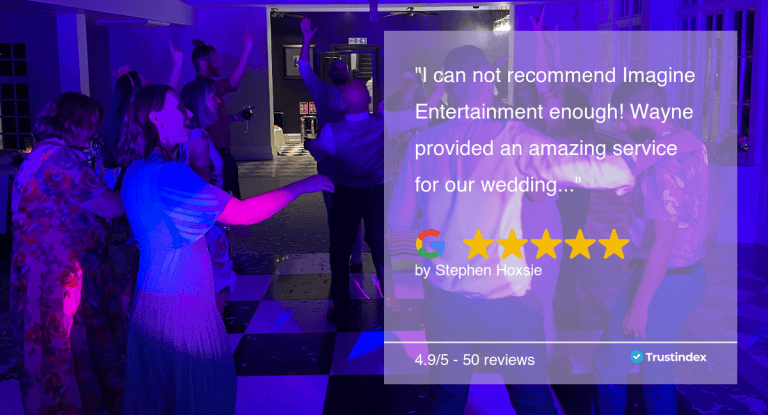 So as is tradition on these posts, some photos of the evening
The usual caveats apply here – I'm no David Bailey (if I was….I'd be a lot richer as a wedding photographer 😉 ) . These shots dear reader, are taken on my humble camera phone as and when I can grab a moment to take them and are shown in their unedited glory.
And so to the playlist...
Zinzi and Stephen had provided a small number of tracks they wanted to hear during the evening, with the rest being selected by guests or myself.
Chris Young – Who I Am with You (First dance)
The Black Eyed Peas – I Gotta Feeling
Riton x Nightcrawlers feat. Mufasa & Hypeman – Friday
Elton John – Crocodile Rock
Whitney Houston – How Will I Know? (Remastered)
The Spice Girls – Megamix
Abba – Mamma Mia
Whitney Houston – I Wanna Dance With Somebody (Who Loves Me)
Wham – Wake me up before you go go
A-ha – Take On Me
Kenny loggins – Footloose
B52s – Love Shack
Ike and Tina Turner – Proud Mary
Abba – Dancing Queen
Bee Gees – Stayin' Alive
Michael Jackson – Billie Jean
Stevie Wonder – For Once In My Life Album Version
Kygo & Whitney Houston – Higher Love
Galantis, David Guetta & Little Mix – Heartbreak Anthem
Daryl Hall & John Oates – You make my dreams
George Michael – Faith
Jubel feat. Neimy – Dancing In The Moonlight
Kate Bush – Running Up That Hill
Don McLean – American pie
Neil Diamond – Sweet Caroline
Tom Jones – Delilah
Hermes House Band – Country Roads
Rednex – Cotton Eye Joe
Vengaboys – Boom, Boom, Boom, Boom!
Bryan Adams – Summer of ´69 
Bon Jovi – Livin On a Prayer
Queen – We Will Rock You
Guns N Roses – Sweet Child O Mine
Bachman – American Woman  
Tina Turner – The Best
Dexys Midnight Runners – Come On Eileen
B Witched – C'est la vie
Backstreet Boys – Everybody (Backstreet's Back)
Boyz II Men – Motown Philly
Beyonce feat. Jay-Z – Crazy In Love
Rihanna – Don't Stop The Music
Chris Brown – No Guidance
Usher feat Ludacris and Lil Jon – Yeah
R Kelly – Ignition (Remix)
Estelle feat. Kanye West – American Boy
Luke Combs – Forever After All
Oasis – Don't Look Back In Anger
Bill Medley & Jennifer Warnes – (I've Had) The Time of my Life
Westlife – Uptown Girl
Ricky Martin – Livin' La Vida Loca
S Club 7 – Reach
John Travolta; Olivia Newton-John – Grease Megamix: You're the One That I Want
The Jacksons – Blame It On The Boogie
Dolly Parton – 9 To 5
Wham! – I'm Your Man
Bruno Mars – Uptown Funk
Nicki Minaj – Starships
Daft Punk – One More Time
Rihanna – We Found Love
Ke$ha & Pitbull – Timber
LMFAO – Party Rock Anthem
LMFAO – Sexy & I Know It
Rihanna – Only Girl In The World
Jessie J – Laserlight
Chris Brown – Turn Up The Music
David Guetta feat. Sia – Titanium
Pitbull – Give Me Everything
David Guetta – Sexy Chick
Chris Brown – Yeah 3x
DJ Ötzi – Sweet Caroline
The Strokes – Last Nite
Cornershop – Brimful Of Asha (Norman Cook Remix)
Supergrass – Alright
Amy Winehouse; Mark Ronson – Valerie
Wheatus – Teenage Dirtbag
Van Morrison – Brown Eyed Girl
Ed Sheeran – One Life
Journey – Don't Stop Believin
Are YOU celebrating at Swynford Manor?
Why not get in touch and see how I can make your evening party memorable for all the right reasons