I'd been looking forward to Terri & Pete's wedding at The Thatch Barn for a very long time! And after originally booking me three years ago, and after three rescheduled dates, the day finally came around.
The venue? The absolutely GORGEOUS Thatch Barn in Yelling. It's up there on my list of favourites and I always enjoy coming back to work here.
And of course being an old barn, the obvious choice of setup is the Rustic,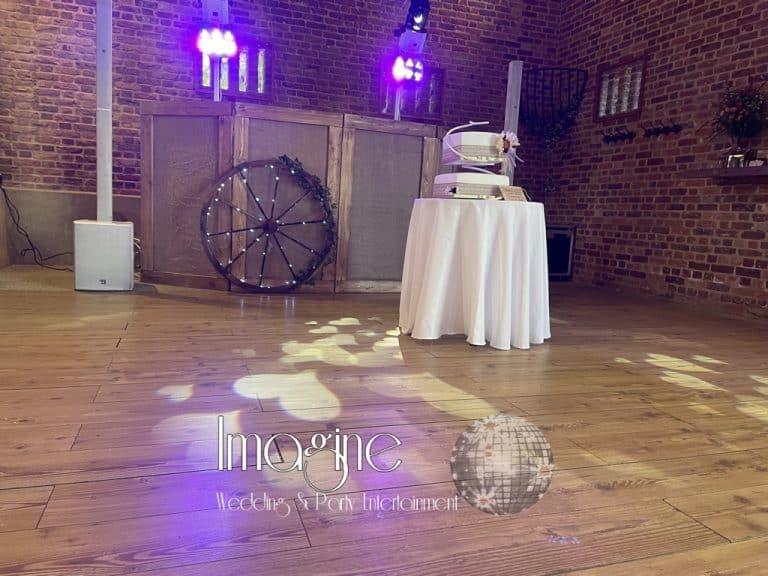 Another scorcher of a day!
The festivities took part on one of the hottest days of 2022 so far, with the sun absolutely blazing all day.
This delayed proceedings just a little bit whilst photos were taken later in the day to take advantage of it being a little cooler.
So around an hour later than planned, we got the evening reception underway with the first dance. The selected track? Proud Mary by Ike & Tina Turner. That's certainly one I've never played for a first dance before.
However, the idea was for Terri and Pete to do their solo bit for the cameras to the slow start of the track, and for their guests to join them once the main part of the song "dropped".
And join them they most certainly did! I've NEVER seen a dance floor as busy during the first dance!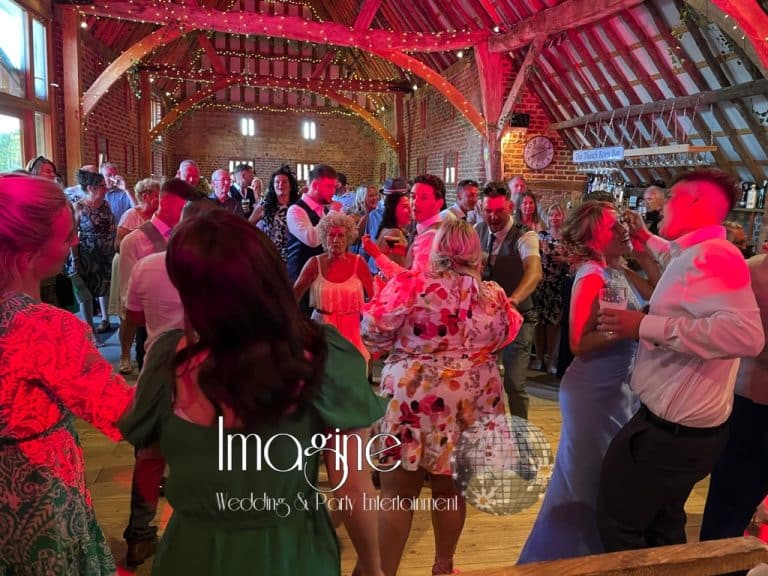 Sadly though, it was just a touch too warm for a full dance floor for the duration
As much as everyone wants to see a dance floor absolutely bouncing and busy, sometimes the weather can have other ideas.
When it's hot and sticky inside the barn but there's just the slightest cooling evening breeze outside on the terrace, that's where the guests are going to head 99% of the time.
Whilst dancing DID happen throughout the evening, it wasn't the busiest of dance floors 🙁 
However, us usual I took a few photos when dancing did occur…
The brief from Pete was simple: "Don't play shitty songs". By this, he meant those overdone action dances such as The Macarena and The Cha Cha Slide which to be honest, I don't play anyway.
So, a mix of what Terri and Pete had selected prior to the wedding, plus requests from guests was the order of the evening.

Proud Mary – Ike And Tina Turner
Wake Me Up Before You Go Go – Wham!
Megamix – The Spice Girls
Dancing Queen – ABBA
Boogie Wonderland – Earth Wind And Fire
Signed, Sealed, Delivered (I'm Yours) – Stevie Wonder
You Can't Hurry Love – The Supremes
It Takes Two – Kim Weston 
Reach Out, I'll Be There -The Four Tops
Love Really Hurts Without You  – Billy Ocean
Dancing On The Ceiling – Lionel Richie
Uptight (Everything's Alright) – Stevie Wonder
Ain't No Stoppin' Us Now – McFadden & Whitehead
Billie Jean – Michael Jackson
Uptown Funk – Mark Ronson ft. Bruno Mars
Can't Stop The Feeling – Justin Timberlake
24k Magic – Bruno Mars
Levitating (The Blessed Madonna Remix) – Dua Lipa feat. Madonna & Missy Elliott
Only Girl (In The World) – Rihanna
Titanium – David Guetta feat. Sia
Laserlight – Jessie J
We Found Love – Rihanna
Jumpin' Jack Flash – Rolling Stones
Gimme Some Lovin' – The Spencer Davis Group
Everybody Needs Somebody To Love – The Blues Brothers
Think – Aretha Franklin
Shout – LuLu
9 To 5 – Dolly Parton
Man! I Feel Like a Woman! – Shania Twain
I Wanna Dance With Somebody (Who Loves Me) – Whitney Houston
Does Your Mother Know – ABBA
Dance the Night Away – The Mavericks
Footloose – Kenny Loggins
You Should Be Dancing – Bee Gees
The One And Only – Chesney Hawkes
Summer Of '69 – Bryan Adams
Chelsea Dagger – The Fratellis
Tubthumping – Chumbawamba
Don't Stop Me Now – Queen
Sex on Fire – Kings Of Leon
Mr Brightside – The Killers
Cheap Thrills (Le Youth Remix) – Sia ft. Sean Paul
No Tears Left To Cry (Junior Sanchez Remix) – Ariana Grande
Show Me Love – Robin S
Insomnia – Faithless
Too Close – Blue
Higher Love – Kygo & Whitney Houston
Say So – Doja Cat
Balling – Vibe Chemistry f./Songer, Mr Traumatik, Devilman & Oneda
It's Like That – Run-DMC vs. Jason Nevins
Flowers – Sweet Female Attitude
I Am the Resurrection – The Stone Roses
Black Magic (Tim Croft Extended Mix) – Jonasu
Mivin' Too Fast – Romina Johnson; The Artful Dodger
Imagine (Asylum Remix)
Shola Ama
Re-Rewind the Crowd Say Bo Selecta – The Artful Dodger
I See You Baby (feat. Gram'ma Funk) [Fatboy Slim Radio Edit] – Groove Armada
Gotta Get Through This – Daniel Bedingfield
A Little Bit of Luck (Original Mix) – DJ Luck & MC Neat
Baby cakes – 3 Of A Kind
Champagne Supernova – Oasis
The Power of Love – Frankie Goes to Hollywood
Are YOU planning a wedding at Thatch Barn Yelling?
If so, why not get in touch to see how I can help to make YOUR day special?