The first (and due to Covid….last) wedding of the 2020 season, and oh boy was it an evening to remember!
Laura & Haydn had booked me to provide their wedding entertainment at the fabulous Anstey Hall in Cambridge way back in May 2019, and I'd been looking forward to this one….A LOT!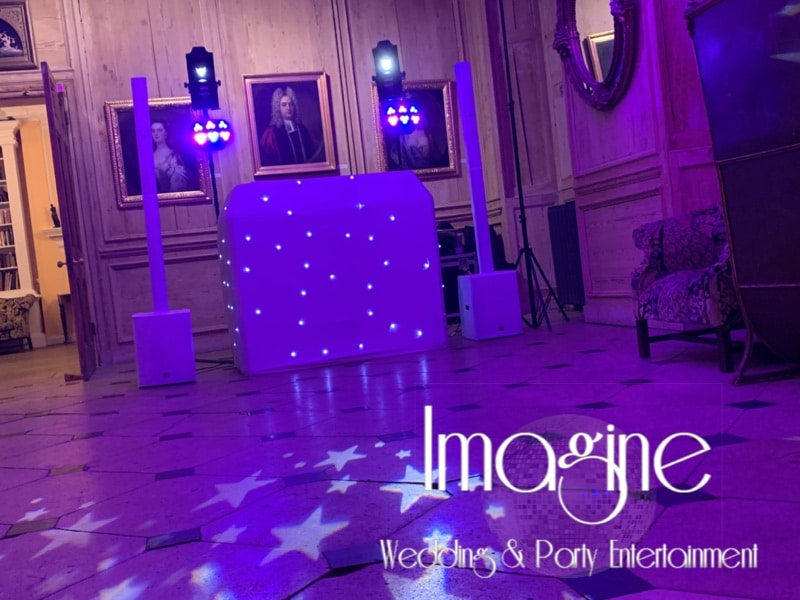 I love wedding receptions at Anstey Hall. It's only a small room for the evening's dancing by comparison to a lot of venues I work in, but that's more than made up with by the surroundings.
Being a smaller room, it also means a more discrete setup can make a BIG impression as far as sound and lighting is concerned.
Laura had asked for a white setup for her reception and if I'm honest, it's probably the style of setup I'd choose myself if I was getting married there.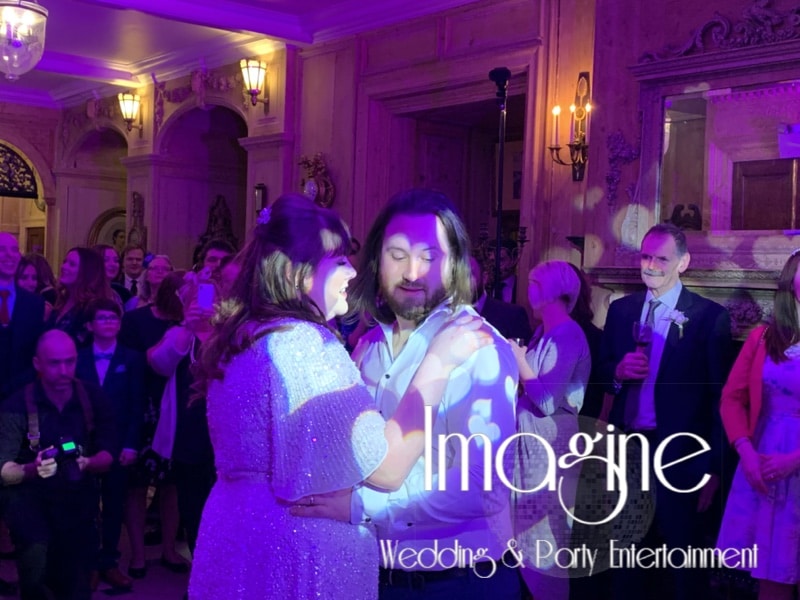 This was always going to be a very relaxed evening reception.
I'd not had the opportunity to meet or talk to Laura & Haydn before the big day, with everything being done via email and via my online planning forms.
One comment from when Laura first booked me springs to mind though:
I'd mentioned that despite the reception hall in Anstey Hall having a stone floor, it's known to bounce when the party gets going (really….it does bounce quite a bit!)
Laura's reply? "Challenge accepted!"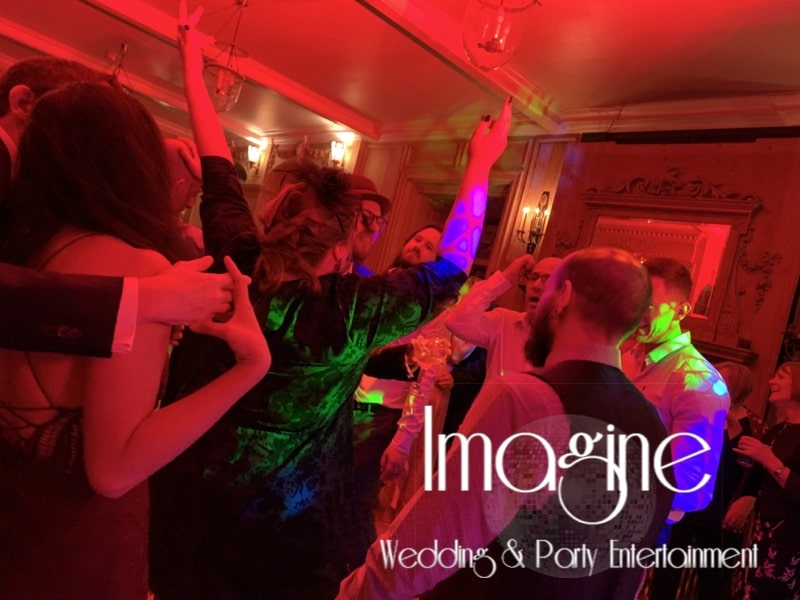 Having seen the playlist for the evening (it was comprised of selections from both Laura & Haydn, and their guests via their RSVP's), it was always going to be a brilliant party.
I actually had around 7 1/2 hours of music lined up for the evening, with only 4 hours to play it after the first dance. Plenty of scope for creating party memories and a lot of different avenues I could take the evening into….I like that sort of situation 🙂 
So, first dance done and dusted (Peter Gabriel's Book of Love) and it's time to get the dance floor full.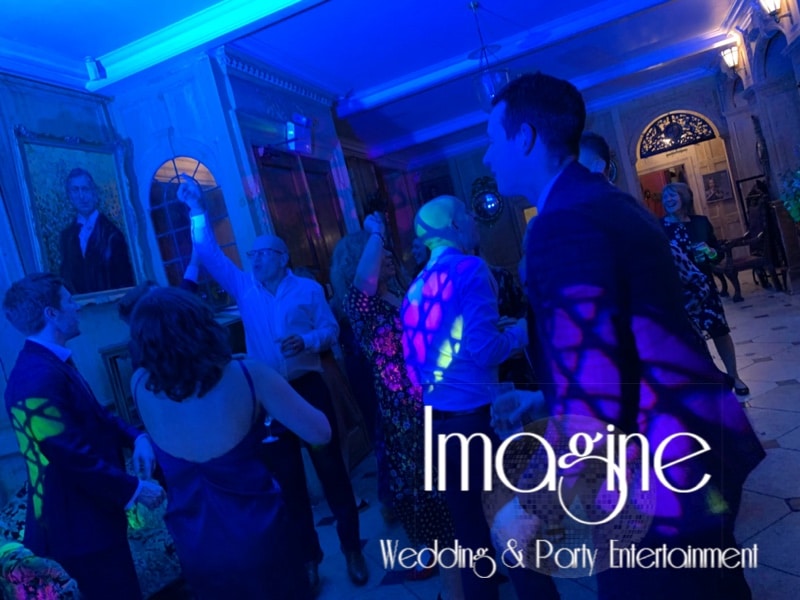 The dance floor never actually emptied!
Even as some of the guests with longer journeys or younger children left,  I was blessed with feeling the legendary "bounce" for the entire evening!
Everything from cheesy pop, girl bands, boy bands, 90s classics and modern Indie worked and at times actually created cheers of joy as the music started!
These guests are probably some of the best I've ever had the pleasure of working with.
The reception hall in Anstey Hall is fairly small so it's hard to get photos from too many different angles. Most of these are as the dance floor looked from where I stand behind the booth
And the playlist that caused this much dancing?
For the first time in a very long time, I didn't pick a single track last night. The entire playlist was made up of Laura & Haydn's requests before the day, guest requests via their RSVP's and requests on the night. 
Every single track caused a positive reaction and a LOT of dancing
Peter Gabriel – Book of Love (First Dance)
Bruno Mars – Marry You
LMFAO – Party Rock Anthem
Pitbull feat. Ke$ha – Timber
PSY – Gangnam Style
Carly Rae Jepsen – Call Me Maybe
Nicki Minaj – Starships
Icona Pop Feat Charli XCX – I Love It
Calvin Harris – One Kiss
The B-52's – Love Shack
Olivia Newton-John & John Travolta – The Grease MegaMix  
Abba – Waterloo
Abba – Mamma Mia
LMFAO – Sexy and I Know It
Vengaboys – We Like To Party (The Vengabus)
Chesney Hawkes – The One And Only
Rick Astley – Never Gonna Give You Up
The Rembrandts – I'll Be There For You
Backstreet Boys – Everybody
No Doubt – Just A Girl
Amy Winehouse; Mark Ronson – Valerie
Blondie – One Way Or Another (2001 Remaster)
Blondie – Maria  
Cyndi Lauper – Girls Just Wanna Have Fun
Billy Joel – Uptown Girl
Dexys Midnight Runners – Come On Eileen
Kenny loggins – Footloose
The Contours – Do You Love Me
Chubby Checker – Let's Twist Again
James Brown – I Got You
The Commitments – Mustang Sally
Tones and I – Dance Monkey
Robbie Williams – Rock DJ
Bryan Adams – Summer of ´69
Bon Jovi – Livin' On a Prayer
The Fratellis – Chelsea Dagger
Chumbawamba – Tubthumping
Queen – Don't Stop me Now
Guns N Roses – Sweet Child O Mine
Mark Ronson Feat.
Bruno Mars – Uptown Funk
Bruno Mars – 24K Magic
Rihanna – Don't Stop The Music
Flo Rida Feat T-Pain – Low
Camila Cabello – Havana
Luise Fonsi & Daddy Yankee feat. Justin Bieber – Despacito
Shakira feat. Wyclyff Jean – Hips don't lie
Flo-Rida feat Kesha – Right Round
Pitbull feat. Ne-Yo, Afrojack & Nayer – Give Me Everything
Lady GaGa – Born This Way
The Communards – Don't Leave Me This Way
Shania Twain – Man! I Feel Like A Woman
Erasure – A Little Respect
PULP – Common People
Wheatus – Teenage Dirtbag
Rage Against The Machine – Killing In The Name  
Blink-182 – All The Small Things
Arctic Monkeys- I Bet You Look Good On The Dancefloor
The Strokes – Last Nite
Feeder – Buck Rogers
Sum 41 – In Too Deep
The Killers – Human
Reef – Place Your Hands
Kings Of Leon – Sex On Fire
The Killers – Mr Brightside
Blur – Song 2
Oasis – Don't Look Back In Anger
Razorlight – Golden Touch
Kaiser Chiefs – I Predict A Riot
Neil Diamond – Sweet Caroline (last song of the night as requested by Laura & Haydn)
All in all, a REALLY good night with a full dance floor for the duration and a lot of happy guests (and I'm sure, lots of hangovers the next morning 😉 ).