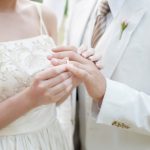 A lot of people don't even realise that a DJ CAN provide the music for your wedding ceremony.
And yet it's something myself and fellow professionals do on a regular basis. And not how you'd expect.
Firstly, we don't provide the ceremony music with massive PA systems and flashing lights (believe it or not, we can do very subtle as well!). In fact my ceremony setup tends to consist of a single discrete speaker and a small mixing desk.
I generally site myself away from your guests towards the back of your ceremony room and take my cues from the Registrar as to when things like specific pieces of music (as chosen by you of course) need to be played.
But, why should you consider using a DJ for your wedding ceremony? 
After all, most venues have CD players and if they don't – what's wrong with using a phone and a portable speaker?
Well, nothing if you don't mind the music being played at different volume levels and don't necessarily want all of your guests to hear it. I've actually heard stories of the wrong music being played at the wrong times by having venue staff or relations in charge of it…..and that's not really something you want for your special moment is it? And does your portable bluetooth speaker have the power to fill the room and carry over the heads of your assembled guests? (probably not!).
By hiring a professional, we can also make things just that little bit more personalised.
For instance, you may have chosen your track for the processional but do you want the whole track played or is there a certain part of the track which is special that you want to walk down the aisle to?
Or maybe you'd like the atmosphere built up with slow fade ins and fade outs rather than just abruptly starting the track as you enter, and stopping it as you reach your partner and the Registrar?
A professional DJ can also assist you with choosing the music for those special parts of the service. Maybe you have a theme you'd like to follow? Maybe you'd like something with a little humour as you walk out as a married couple but can't think of anything suitable which a Registrar will approve of (because they have the final say in whether or not your selections can be played).
I can also if needed, provide microphones for the ceremony so that every word can be heard (although that's very rarely needed in most cases)
It's all part of the service I'm able to offer to couples getting married, and something I'm always honoured to be asked to do.
So why not consider hiring me to provide the soundtrack to the most special part of YOUR day?