Being a self employed Wedding DJ's the easiest job in the world, right?
After all, I just set up the kit, press play, and watch people dance don't I?
Actually it's not that simple 🙁 (I wish it was).
I've been doing this job since the black and white days of 1988 as a part-timer, and for the past 4 years as my full time job. While I was employed as a software engineer until 2018 life was a lot easier. I worked 9-5, went home and forgot the job until the next morning and still got paid.
Being self-employed and relying on entertaining you and your guests is a lot harder, more stressful, 24 hours a day and no guaranteed income. And yet…I LOVE what I now do! 
So why give up the 9-5 for someone else and go it alone?
First and foremost….I take pride in my job!
And that's important in a lot of ways. Whilst I could turn up, press play, watch people dance and go home again, I like to do the job properly and with more than a little professionalism.
That's a full dance floor of happy guests above...how did that happen?
Well dear reader, I absolutely didn't just play. In fact, it took a lot of work to get there.
You see, every wedding I entertain as is different in its own way. Every single guest has their own taste in music as well, and it changes on the day!
I have to be able to adapt to what's happening in front of me on the dance floor in a split second, or risk clearing the 'floor altogether….and that's not something either you or I want to see!
In truth, both you and I want to see a dance floor absolutely rammed with guests on your big day!
It's the dream ending to the day you've dreamed of since you agreed to marry your partner!
I want to help you to achieve that!
So here's why I do what I do for YOU!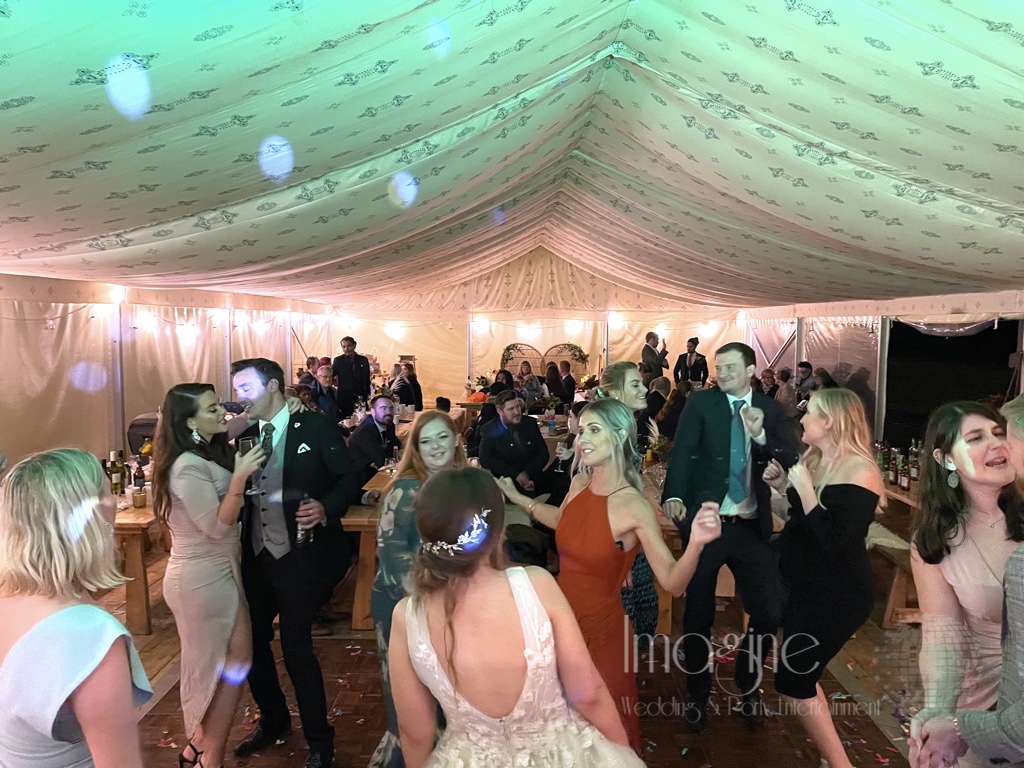 I want you and your partner to have a wedding you'll never forget
I want your guests to remember your wedding entertainment for all the right reasons
I want to see you and your guests enjoying my part of the day on the dance floor
I enjoy what I do for a living and take great pride in providing the best possible party experience I can
Sorry…the last one's a bit cheesy but it's true. I absolutely THRIVE on seeing a full dance floor and interacting with guests. 
Having a full dance floor in front of my booth enjoying the music I'm playing is the very reason I love my job. 
Yes it's hard and stressful behind the scenes (I'm now an accountant, a marketer, a PR guy, a salesman….all jobs I hate with a passion). I absolutely enjoy being there on your day though and that's the bit that makes the whole job worthwhile in my book!
So, if you're looking for someone to provide the entertainment for the start of YOUR happily ever after who takes a massive price in what he does on the day and has a track record for providing top-class wedding entertainment (who me?), then PLEASE get in touch.
I can only be at one wedding at a time and I actually turn away more enquiries than I can be at (and I don't like doing that!)
Am I available for YOUR big day? There's only one way to find out!