Is your DJ who they say they are?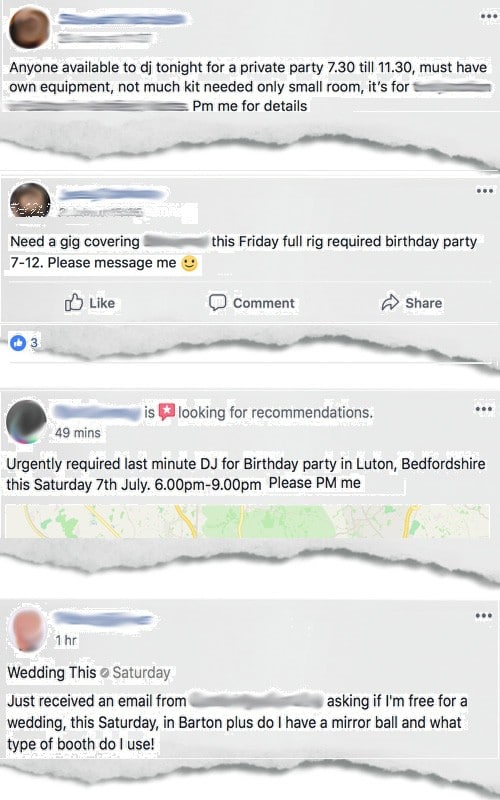 It's one of those times of year again where as a professional DJ who cares about what I do, my blood starts to boil (and it's not caused by the current heatwave we're experiencing in the UK). The other time of year where this happens is Christmas.
What's making me so angry? Just look at the image to the right!
Unfortunately at this time of year (and again in the run up to Christmas and New Year), these types of request are becoming far too common.
Behind each and every one of these pleas for help is a customer who's expecting entertainment at their wedding reception or special party….and a lot of the time these requests end up with nobody being able to help (we're all busy at these times of the year).
The customer has booked a DJ in good faith (in the case of a wedding…many months in advance of their wedding date), and yet these requests appear in the week leading up to the function!
What causes the problem?
In a nutshell, DJs who think they are agents!
Now, whilst entertainment agencies when properly run are a good thing in this industry, these people are far from being proper agents. They're DJs who have taken a booking (normally for a higher fee than they're then farming the job out to A.N. Other for) and trying desperately at the last minute to get cover.
In short, they're trying to profit from YOUR party for doing nothing more than taking your booking without knowing how they're going to cover it!
Some of these characters appear regularly on various DJ Forums and Facebook groups offering several jobs a week.
Why are they taking the booking without having a DJ in place to begin with?
A reputable agency will have DJs on their books and will be able to fulfil the booking – they won't take your booking on if they haven't got somebody available to cover it. The vast majority of them will actually let you know who your DJ is going to be on the night well in advance of your function – their reputation depends on it!
The wannabe agent though….they take their chances and it's not only me they're upsetting. They end up not being able to cover the party in question, or end up using an inexperienced or poorly qualified DJ to provide the entertainment for the customer….and it gives the rest of us a bad name.
Happily – if you book me directly you're not going to be in this situation!
When you book me for your wedding or party, it's ME you'll speak to during the booking process, and it's ME that will be there on the night. I don't take on additional jobs and hope to cover them somehow….once I'm booked for a date – I'm booked…it's as simple as that.
OK (and touch wood it's never happened yet!), there may one day be a situation which causes me not to be at your party such as serious illness or a death in the family (they're really the only two instances I can think of). In those cases, I'll talk to you directly and arrange to use somebody I know and trust at my own expense to cover for me. What I certainly won't do is offer your entertainment out to the lowest bidder because I've taken on too much work….I really don't operate in that way!
So you can sleep peacefully once you've booked me that your party WILL go ahead exactly the way you want it to!