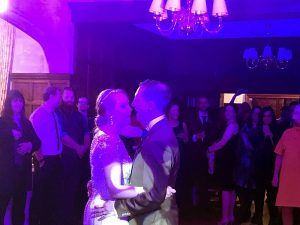 My penultimate wedding reception of 2018 was to be for Sam & Dan over in the beautiful Lanwades Hall.
I'd met Sam and Dan a couple of weeks before the big day just to quickly go through things, and I could tell from the moment we met that their wedding was going to be just a little bit "different" musically.
They'd been planning the wedding for just over a year (that's how long it can take to organise a Registrar at the moment!), and this was to be a wedding with a big emphasis on fun and informal.
For example, the cake was of pork pie and cheese because let's face it, who doesn't like that combination….it beats sponge and fruit in my book 🙂 . They did actually have a traditional cake as well by the way.
Musically Sam was very much looking for the "party classics" – basically in her words when we met "music that people will dance to". Dan on the other hand, very much into very hard rock and metal (we're talking Rammenstein here!).
How to combine the two?
Actually with occasions such as weddings it's fairly easy. I don't do "club style" mixing for weddings as a general rule (although I'm more than capable, it doesn't tend to be what most of my couples are looking for).  Because I was allowed to interact with the microphone as well, there was the opportunity to build into Dan's style of music.
Lanwades is a fairly small venue (I was last here for Kimberly & Jason's wedding last year). For Sam & Dan's wedding we only had around 50 guests for the evening. A small wedding compared to some I do, but that makes it all the more intimate. From my side of the decks I can really get to know who's who and interact accordingly, and that can make a huge difference.
The dance floor stayed healthy for the entire evening, right up until the last song of the night, with a selection of songs requested by Sam & Dan before the big day, and from guest requests on the night. It really was a pleasure to work at.
So, some photos then
And so to the playlist for the evening….
The majority of the music for this one was chosen by Sam & Dan before the evening, with the rest being suggested by their guests during the night. This combination always seems to work best as guests feel more included in the music selection.
Fleetwood Mac – Songbird (First Dance)
Wham – Wake me up before you go go
Kenny loggins – Footloose
The Jacksons – Blame It On The Boogie
Earth Wind and Fire – Boogie Wonderland
The B-52's – Love Shack
5,6,7,8 – Steps
The Weather Girls – It's Raining Men
Taylor Swift – Shake It Off
Pharrell Williams – Happy
Little Mix – Woman Like Me
Richard O'brien – The Time Warp
Katrina & The Waves – Walking On Sunshine
Amy Winehouse; Mark Ronson – Valerie
Stevie Wonder – Superstition (Single Version)
Sister Sledge – We Are Family
Michael Jackson – Don't Stop 'til You Get Enough (2003 Edit)
Mark Ronson Feat. Bruno Mars – Uptown Funk
Vanilla Ice – Ice Ice Baby
Salt-N-Pepa – Push It
Foo Fighters – Big Me
Foundations – Build Me Up Buttercup
Steve Harley & Cockney Rebel – Make Me Smile
Barry White – You're My First, My Last, My Everything
Kool The Gang – Celebration
Cyndi Lauper – Girls Just Wanna Have Fun
The Black Eyed Peas – Where Is The Love
Blackstreet – No Diggity (feat Dr Dre)
Queen – Dont Stop me Now
The Killers – Mr Brightside
The Fratellis – Chelsea Dagger
Bryan Adams – Summer of ´69
Bon Jovi – Livin On a Prayer
Guns N Roses – Sweet Child O Mine
Queen – Bohemian Rhapsody
Rammenstein – Ich Will
Rammenstein – Sonne
Blink 182 – Always
Reef – Place Your Hands
Wheatus – Teenage Dirtbag (Explicit)
Florence + the Machine – You've Got The Love
House Of Pain – Jump Around
Dexys Midnight Runners – Come On Eileen
Wham – I'm Your Man
Chesney Hawkes – The One And Only
M People – One Night in Heaven
Haddaway – What Is Love
The Shamen – Ebeneezer Goode
Faithless – Insomnia
Snap – The Power
Queen – Crazy Little Thing Called Love
The Divine Comedy – National Express
Seal – Kiss From A Rose
Jeff Buckley – Hallelujah
Journey – Don't Stop Believin'
Foo Fighters- Everlong
Oasis – Don't Look Back In Anger
The Proclaimers – I'm Gonna Be (500 Miles)
Bill Medley & Jennifer Warnes – Time of my Life
Are you in the process of planning your wedding reception? Why not get in touch and let's discuss your plans for an evening to remember!