Although the majority of the parties I entertain at tend to be weddings, it's ALWAYS nice to help celebrate an anniversary from time to time….especially when it's one as special as a Ruby anniversary.
The brief from their daughter Lucy was simple. 
Play "party classics" from the '70s to the '90s to get people up and dancing. As an added bonus, Lucy asked for the Retro setup as that's the style of disco that would have been at their original wedding reception way back in 1979!
Oh, and the whole party was to be a surprise. Malcolm and Wendy actually thought they were going for a meal with friends for the evening!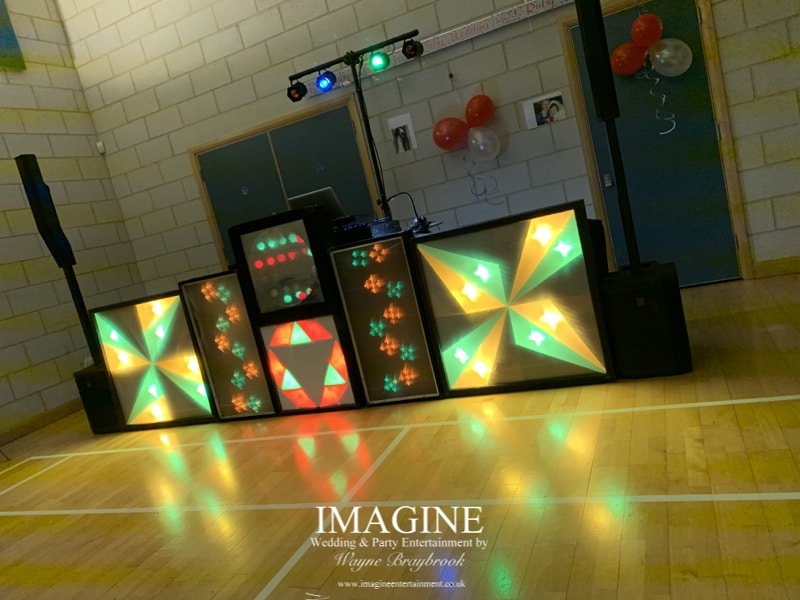 Unusually, it stayed a surprise until they arrived!
Sadly, most "surprise" parties turn out to be anything but a surprise with the guests of honour normally finding out well in advance and playing along.
It wasn't the case on this occasion though!
I'd been in touch with Lucy before the party to find out some favourite songs of her parents, including their original First Dance track from all those years ago, and it was decided they'd enter the hall to Apache by the Shadows (Malcolm's all-time favourite song).
With such an occasion, I also let off a burst of confetti as they entered the hall as well….well you have to, don't you?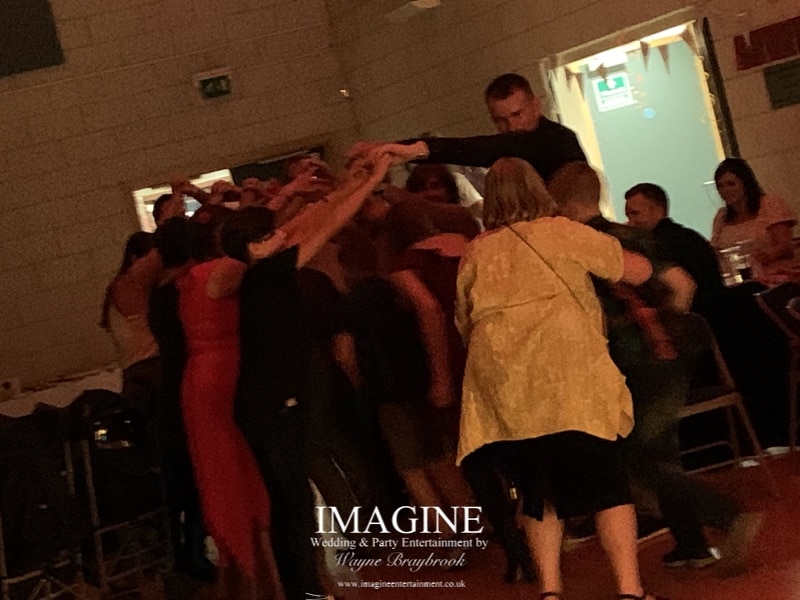 I confess, I interpreted the brief a little differently from Lucy on this one to begin with.
My idea of "party classics" include tracks from the '70s disco era, popular '80s songs…you get the idea.
On the night, I was wrong (but soon corrected this). Guests just weren't dancing to the likes of Abba and The Bee Gees.
A quick change of direction soon saw me playing music I don't usually play (because this type of music is normally banned on most playlists).
Yes ladies and gentlemen, we're talking Superman, Agadoo, The Conga, The Cha Cha Slide, The Macarena and The Music Man!
I actually have no problem with any of these songs (unlike a lot of DJs who will actually flat-out refuse to play them). If it's music that you and your guests are going to dance to, I'll happily play it!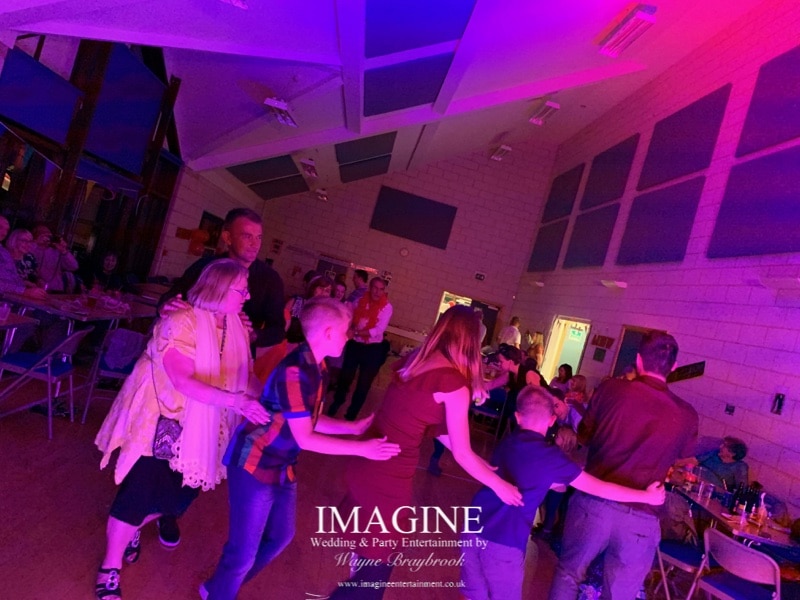 And I obviously did my job right on the night!
A couple of days later, I received the following glowing Google review from Lucy!


The majority of the music on the night was requested by guests. It led to a full dance floor for the evening as the photos above prove 🙂 
The Shadows – Apache (Malcolm's favourite track used for the entrance!)
The Party Mix 70s – Continuous Mix (background music during the buffet)
Barry White – You're The First, The Last, My everything
Wham – Wake me up before you go go
Kenny loggins – Footloose
Abba – Dancing Queen
Crystal Gayle – Don't It Make My Brown Eyes Blue (the original First Dance!)
The Tams-Hey Girl Don't Bother Me (Wendy's all time favourite)
Martha & The Vandellas – Jimmy Mack  
Smokey Robinson – The Tears Of A Clown
Lionel Richie – Dancing On The Ceiling
The Supremes – Baby Love
Dolly Parton – 9 To 5
Bee Gees – Stayin' Alive
The Archies – Sugar Sugar
Fontella Bass – Rescue Me
Manfred Mann – Do Wah Diddy Diddy  
Little Eva – The Locomotion
Chubby Checker – Let's Twist Again
The Swinging Blue Jeans – The Hippy Hippy Shake
Lulu – Shout
Bill Haley & His Comets – Rock Around The Clock
Danny & The Juniors – At the Hop
Earth Wind and Fire – September
Whitney Houston – I Wanna Dance With Somebody (Who Loves Me)
The Spice Girls – Megamix
S Club 7 – Reach
Steps – Tragedy
Village People – YMCA
Whigfield – Saturday Night
Los Del Rio – Macarena
Steps – 5,6,7,8
Damien – The Timewarp
DJ Casper – Cha Cha Slide
Black Lace – Agadoo
Black Lace – Superman
Black Lace – Do The Conga  
The Gap Band – Oops Upside Your Head
John Travolta; Olivia Newton-John – Grease Megamix: You're the One That I Want
The Jacksons – Blame It On The Boogie
Dexys Midnight Runners – Come On Eileen
Billy Joel – Uptown Girl
Abba – Mamma Mia
The Proclaimers – I'm Gonna Be (500Miles)
Tony Christie – (is this the way to) Amarillo
Rednex – Cotton Eye Joe
Black Lace – Hokey Cokey
Bad Manners – Can Can
Black Lace – I Am The Music Man
Jeff Beck – Hi Ho Silver Lining
Tom Jones – Delilah
Crystal Gayle – Don't It Make My
Brown Eyes Blue (reprise of First Dance)
Neil Diamond – Sweet Caroline