I wrote a blog post a little while back about why you shouldn't hire me for your wedding. It was very tongue in cheek and is one of the most read blog posts I've ever written!
But on the serious side of things, why SHOULD your hire me for your wedding?
Your wedding day is one of the biggest events you'll ever plan in your life!
The amount of preparation and work which goes into any wedding is astounding, often taking months or even YEARS to plan. And as for the cost….
But WHY should you hire ME as your wedding DJ over and above the thousands of other DJs out there?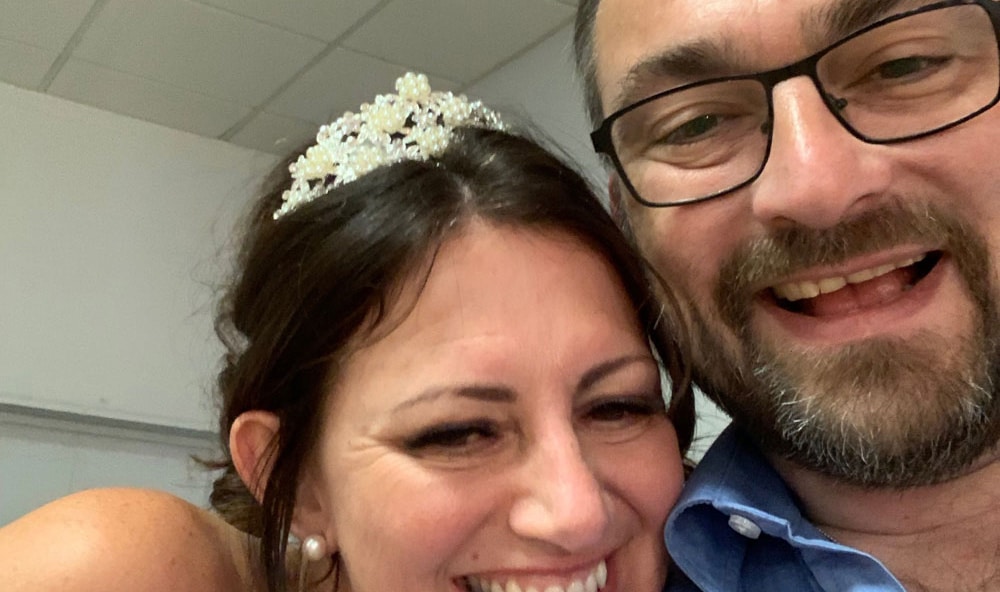 1. I don't take myself too seriously!
Don't confuse seriousness with professionalism!
I'm 100% professional at each and every wedding I'm asked to work at – make no mistake about that!
But…I'm also a friendly and fun loving kind of chap. I like to laugh, I like to get involved and be friendly with your guests, I'm a human and at the end of the day, a professional entertainer. It's how I've made my living for many years now!
Whilst some in my chosen profession "live for the music" and create a 4-5 hour set of absolutely perfectly mixed music, I live for the experience and memories I'm helping to create.
Sometimes the transition from one track to another won't always make immediate sense on paper, but will on the night (really…to read some of the playlists I publish in my reviews of previous weddings you HAVE to have been there to understand how and why it worked).
Whilst some DJs I know work in a three-piece suit, I work in a smart open-necked shirt and snazzy waistcoat. I'm not a guest after all!
"I really wanted to avoid the cliched "cheesy wedding DJ" for our wedding and we chose absolutely the right guy. His communication from booking through to event was brilliant, his online playlist set up was really easy to use."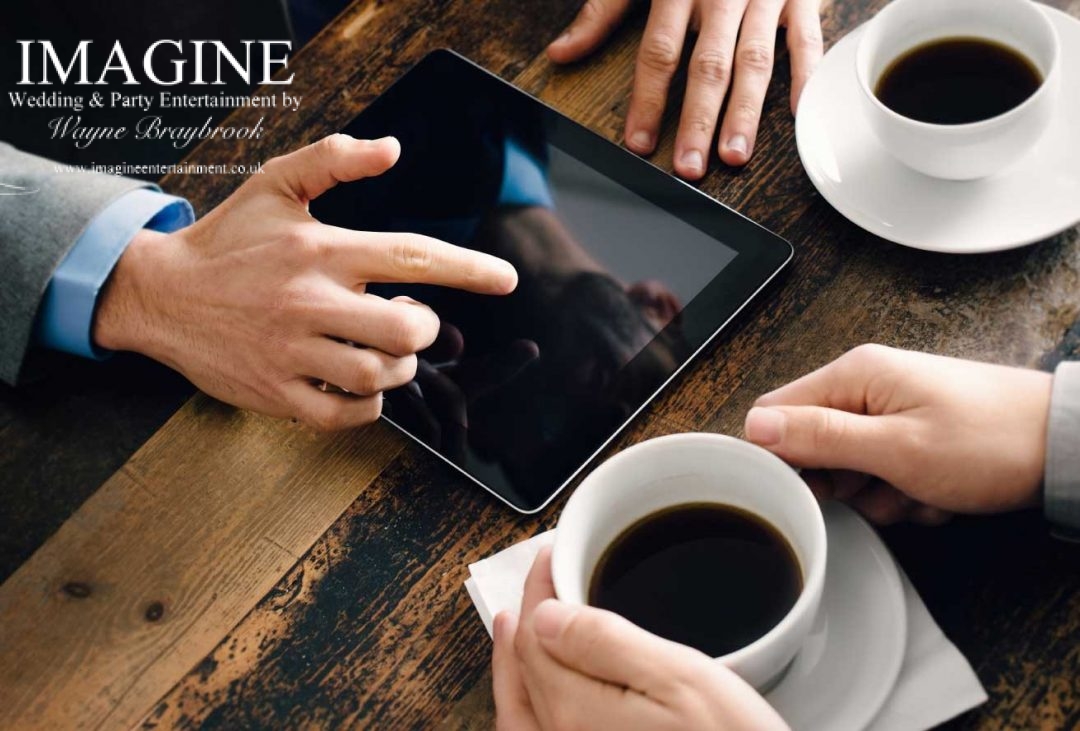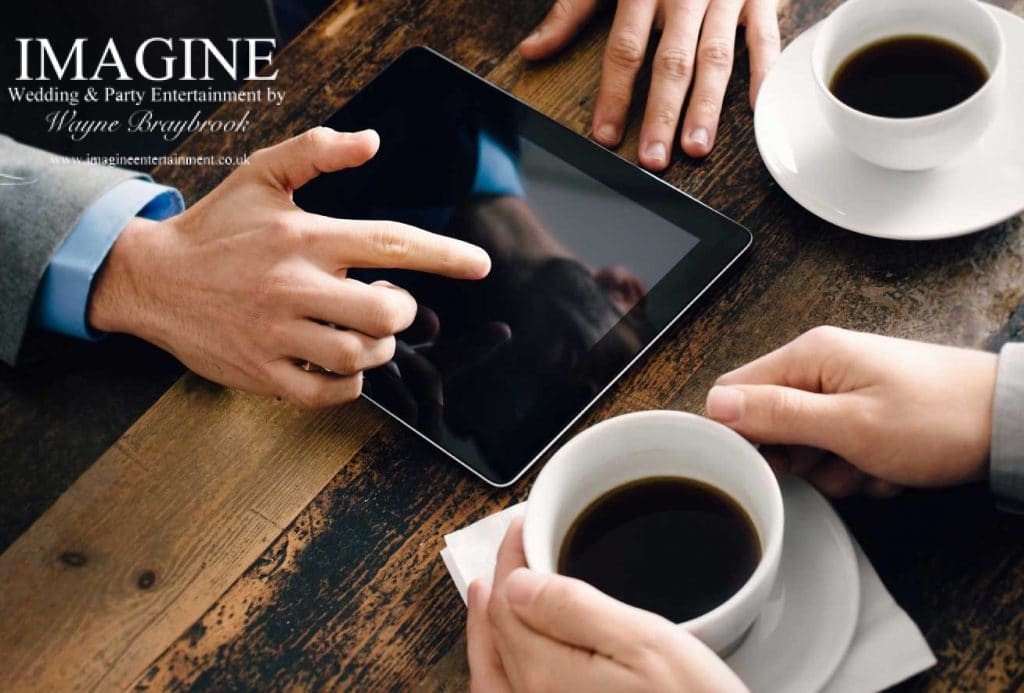 2. I work WITH you from the moment you hire me!
A lot of my customer testimonials will mention this fact. 
It's entirely optional, but it's always fun to meet up for an informal coffee or even a beer before the big day just to go through how you see the entertainment working, and for me to share my experience of what I can and can't do to make your day memorable (and trust me, I NEVER promise to do something I can't do!).
Plus, I'm ALWAYS at the end of the phone or a quick email away with any questions or ideas you might have. OK….I like to sleep occasionally, but you get the idea.
I want to help to make your day as perfect as possible, and the more we work together before the big day, the easier it is.
I even provide a free of charge (to you) online event planning system so that you can plan your day at your convenience. 
"Wayne is AMAZING! We could not have found a better DJ! Throughout the planning process, we met up with Wayne a couple of times and we had so much fun getting to know each other. He replied to emails super quickly, which I really appreciated! We loved Wayne's website, where we and our guests could add song requests. On the night, Wayne gave us the best party EVER!! He played lots of our requests, as well as listened to guests on the night! Somehow he managed to mix my love of Tina Turner and Take That with my (now) husband's love of heavy metal, making us both super happy! He really did play a bit of "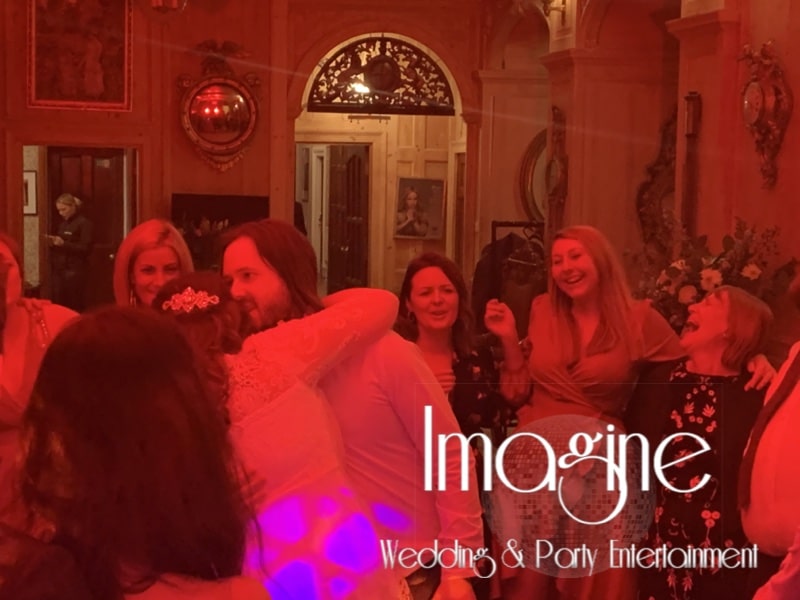 3. The music YOU and YOUR GUESTS want to hear
Did I mention the online planning portal above? (I think I did).
Not only can you request the music you want (and don't want) to hear well in advance of the big day, I can send you a shortened URL to either send to your guests as an email link or have included into your invitations to let THEM have a say in the evening's entertainment (you obviously have the final say in what's played and what isn't).
Trust me, if your guests get a choice in the music, they're more likely to dance to it and fill your dance floor as a result.
I'm also more than happy to take requests on the night as well unless you specify otherwise.
"Absolutely brilliant! Wayne is so helpful and easy to talk to about logistics. We really be appreciated his help and advice in the run up to our wedding day - and the online portal he used for us to choose songs was really easy to navigate. On the night, Wayne was outstanding. He played our songs in the perfect sequence and the dance floor was absolutely wild! Just a lovely guy to have around on the evening too. Will be recommending you to everyone. Thank you for the best party of our lives!"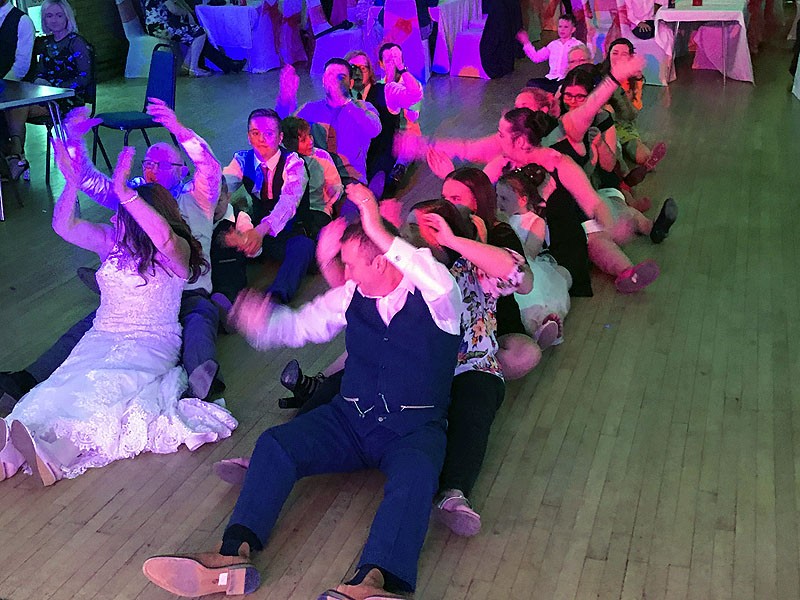 4. I won't play the same old "wedding playlist" as every other DJ
OK, that's a bit of a white lie because there's really no such thing as a wedding playlist.
There are however, certain songs which are played at MOST parties as requested by either the happy couple or their guests. It's a fact of life.
You really don't want to know how many times I've played Livin' on a Prayer and Summer of '69 – not through choice, but because I've been asked to.
What I definitely WON'T be playing unless YOU specifically ask for them though are those songs with action dances, you know….Superman, Agadoo, YMCA, Macarena..
Whilst I'll happily play them, I've found from experience that most couples really don't want those songs played….it's entirely your choice though!
"Can't thank Wayne enough for helping to make our wedding day so special! Extremely lovely and professional service. Thank you so much again Wayne!!! Highly recommend!"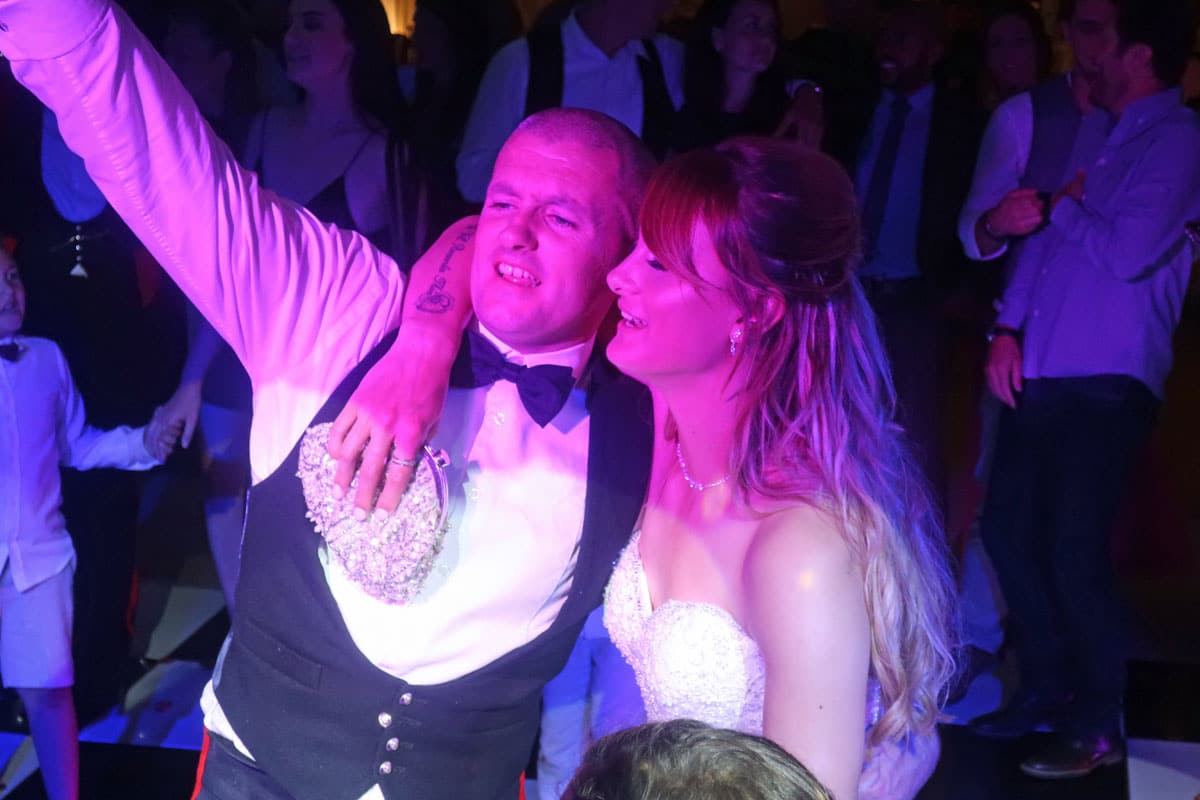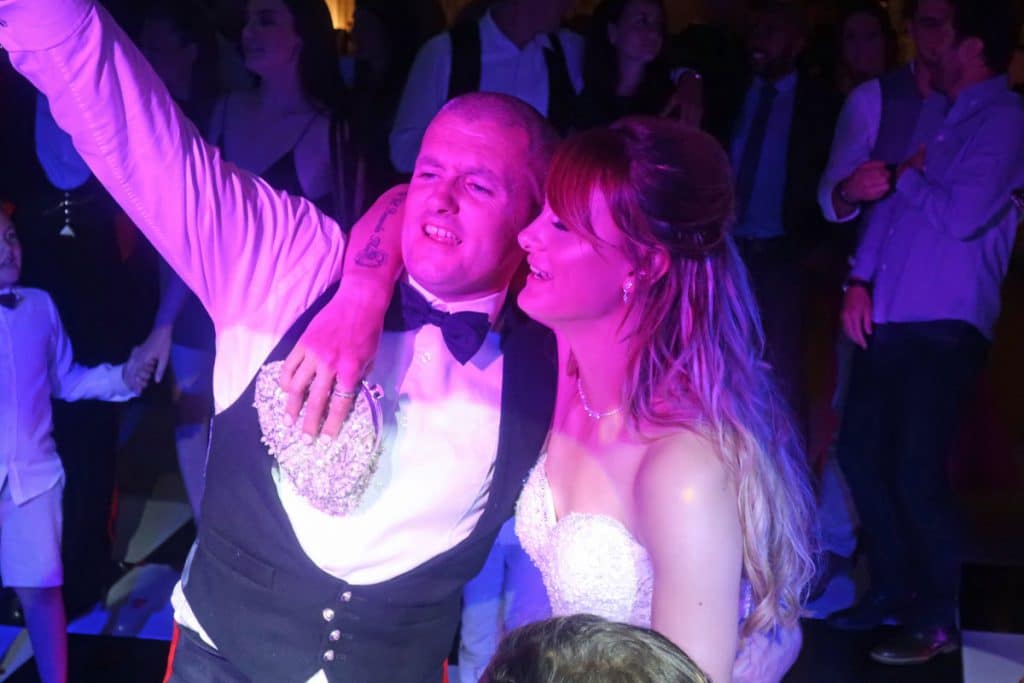 5. I'm your flexible friend!
No I'm NOT a contortionist (I wish!), and I'm not the green credit card from the 1970s. 
I am however, very flexible in the way I work.
I won't hold you to a strict timeline of events and hassle you to get things done, I won't insist that things are done my way, and I won't get upset when things are running later than planned.
You (hopefully) only plan to marry once, and it's important that your day is relaxed and enjoyable….not timed to the millisecond!
If you want to change the plan on the day, that's totally fine by me and I'll work with you. It happens a LOT and I get that things don't always run to what was originally planned (I've been known to announce the first dance for instance a couple of hours later than planned because….well, it's just the way the day went).
Whilst I'm happy to perform as your informal Master of Ceremonies and keep things ticking along, if YOU want timings to slip or move around….I'll work with you!
"My daughter's wedding was the best wedding I have ever been to! Wayne was absolutely fantastic and there was never a moment when the dance floor wasn't full. The bride, Amy, was never off the floor! Fantastic job, Wayne, and I really would recommend you to anyone."
6. I'm experienced at what I do
Please don't read that as OLD (although I am)!
But, I've been involved in the planning of an awful lot of weddings over the years. I've seen traditions come and go, I've seen so many different ways of doing things (and I'm still learning), there's really not much which takes me by surprise these days.
But do you know what? I still LOVE being a part of a wedding because of the magic and emotion involved in such a special day (I'm a soppy old git at heart!)
I've entertained at over a thousand weddings during my career as a professional DJ (eek!), and believe it or not I've NEVER received any bad feedback from the entertainment I've provided….and that's a record to be proud of in my book!
"Thank you so much for last night you were brilliant. Can't thank you enough for helping out with everything it was perfect. And we nailed Zoe's surprise. Couldn't of done it without you!"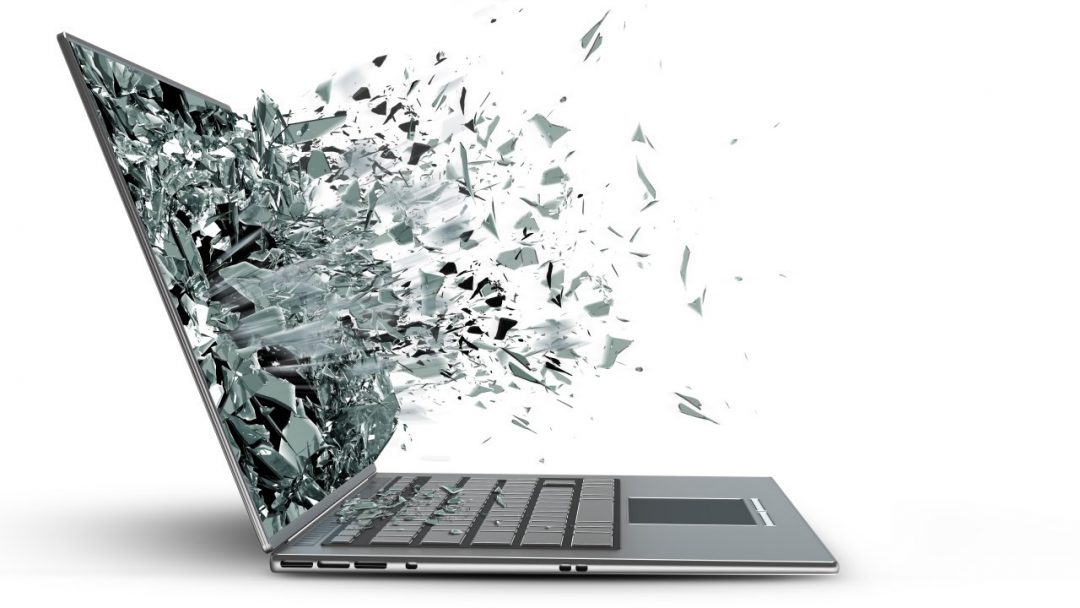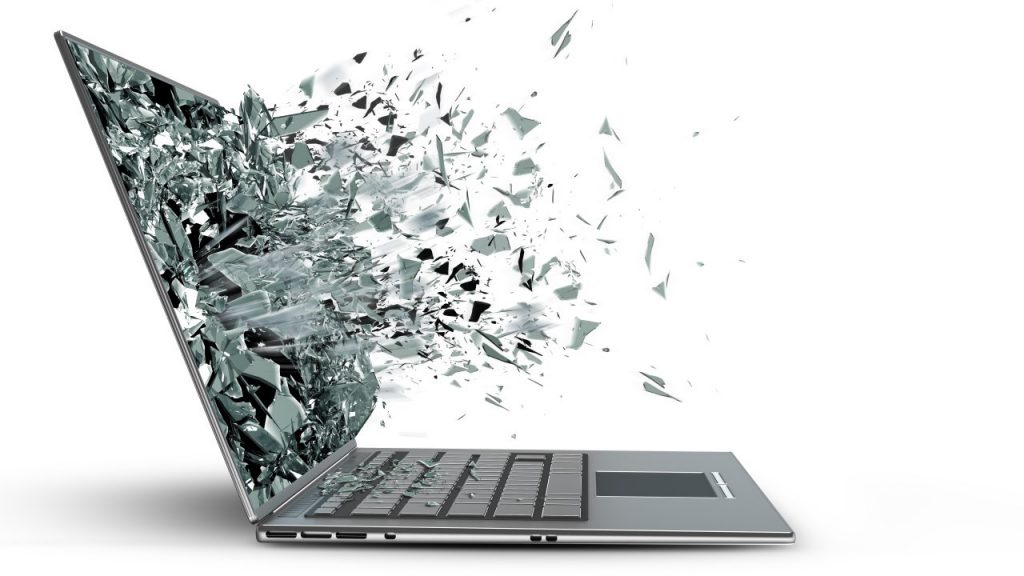 7. I'm ready for the unexpected!
It's a fact of life that the electronic equipment I use can and does go wrong from time to time.
When did your laptop last decide to have a hissy fit?
I only use professional grade equipment designed for the purposes I use it for, and trust me, that grade of kit costs a LOT of money….the "average" setup you'll see at your wedding will be in the region of around £20,000 of investment.
BUT, I prepare for the unexpected and when it does go wrong, I have a plan B and even a plan C in place!
I have back-ups of the main equipment with me at ALL weddings so that should the worse happen and something fails, I can swap it out without you even noticing most of the time.
The only thing I can't plan for is the power failing at your venue….I don't carry a generator because power failures are so rare. And if the venue's power goes, you're going to have bigger problems than me not being able to work….how do you think the beer pumps work?
"What a fantastic evening of dancing we had at our wedding. Wayne was so polite, friendly and professional the whole time and did a fantastic job keeping everyone dancing. I just knew he would have everything set up on the day and it was one less thing to worry about. Would definitely recommend him"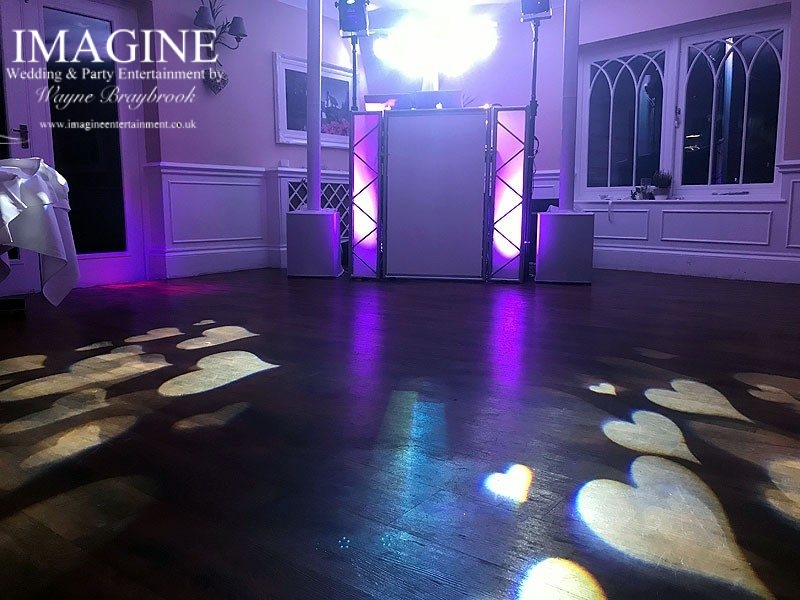 8. And talking of equipment...
I'm not a one-trick pony. I don't have a "one size fits all" set up that I take on the road to every event….far from it!
Some couples want loud and in your face sound and lighting, some want something more subdued.
Some couples want a white setup, others want something a little more rustic (some even want an original 1980s light show!)
By the way, you can see some of the setups I have to offer here.
Whilst talking about equipment is a bit nerdy and most non-DJs wouldn't understand the difference between a discharge lamp and an LED, how the equipment used is presented at your wedding is important and it's something I take great pride in.
After all, do you want to spend hour and a lot of money designing your wedding decor just to have a heap of ugly electronic equipment thrown in the middle to ruin the effect? I didn't think so!
As with everything else I work WITH you to ensure that the equipment I use on the day is going to fit in with any style ideas you might have.
"We had Wayne's 80's disco roadshow for our wedding on 8th June. Excellent DJ and set up- our guests all said what a great atmosphere it was. Wayne kept in touch throughout the build up to the wedding and everything went perfectly. Highly recommend"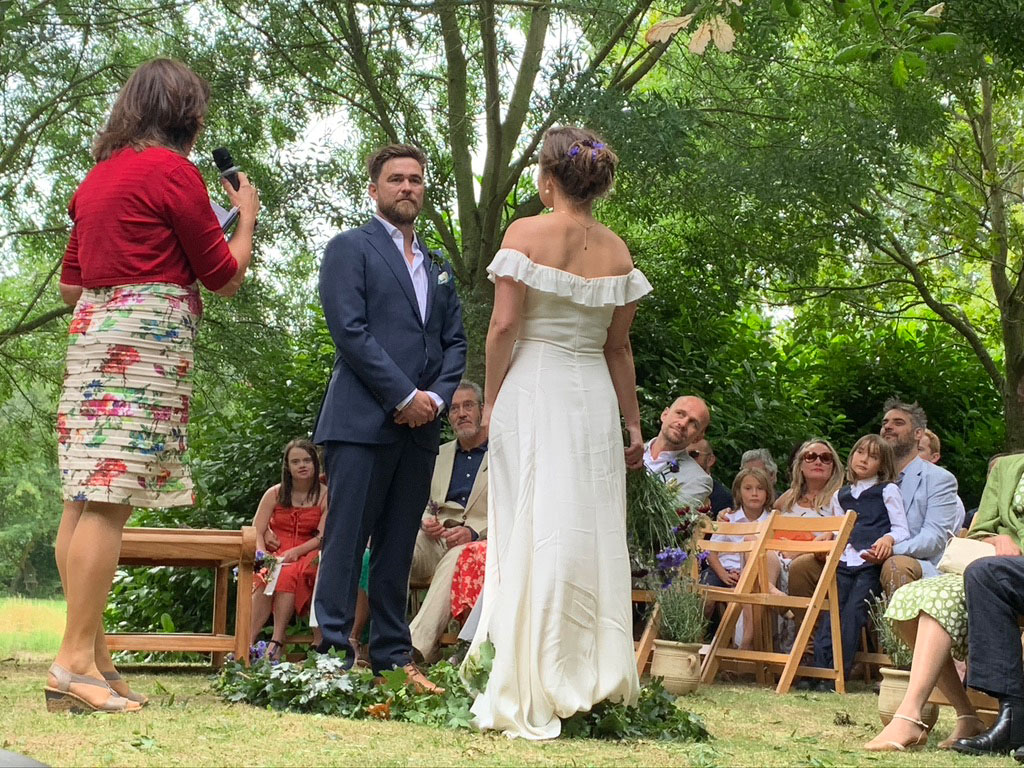 9. I can do sooo much more than just the evening party!
Somewhere in the region of 40% of my previous couples have hired me to provide the entertainment for the entire day!
It's a LOT of hard work and stress, but I love every single moment of it!\
Whilst I'll happily provide the entertainment for just the evening reception, I can also provide the music and microphones for the all-important "I DO" bit, and more importantly the soundtrack to your wedding breakfast however you want it.
You can see what I have to offer here!
Do you want your guests to hear the scraping of cutlery on crockery during your afternoon reception, or do you perhaps want them to sing along to songs they know and love?
Do you want the introduction to your speeches to be announced properly and grab everyone's attention?
Do you want the cutting of the cake to be just a little more special than sticking a knife into an iced fruit cake?
"Wayne was exceedingly exceptional. Aside from being a lovely bloke, he came to our rescue and helped, unprompted, when the celebrants mic was struggling in the wind. He set up his DJ booth and lights without fuss and in no time. All the equipment was new and state of the art. He even provided some confetti canons free of charge which was a lovely surprise at the end of the evening."
So there you have it....I've laid my cards on the table
If you're looking for a DJ that can really MAKE your wedding reception SPECIAL, please get in touch using the form below.
If you're looking for A.N Other DJ because you just need a DJ to finish your big day….I'm probably not the right DJ for you.