Yet another evening at The Old Hall, this time for Alex and Matt. 
A little different from my normal setup in there as you'll see from the photo – no LOVE letter frontage this time.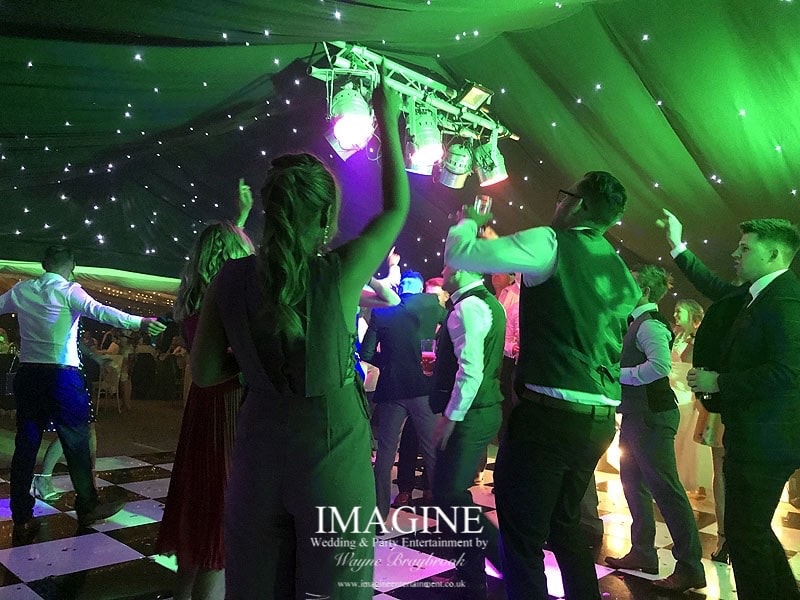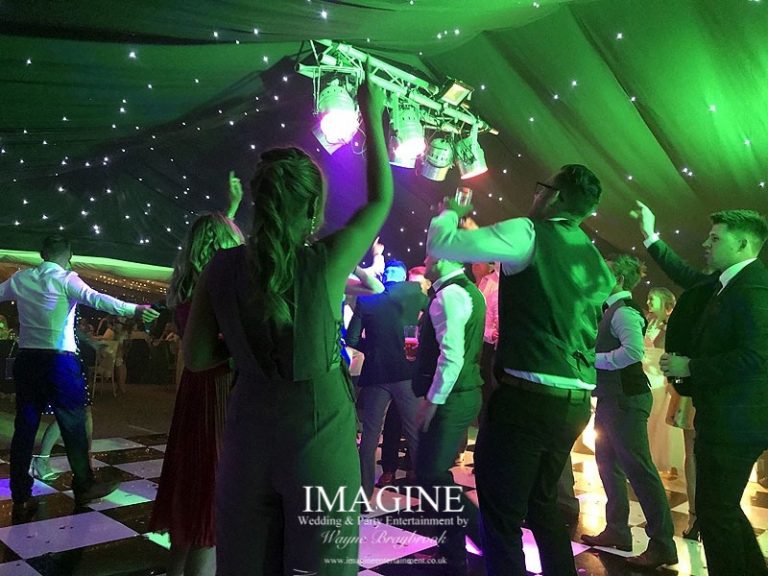 This particular evening reception was to turn into one I'll remember for a very long time to come!
Why? Because unlike many weddings where the dance floor can fluctuate with dancers, the dance floor stayed absolutely rammed for the entire evening….and that makes me a very happy DJ indeed 🙂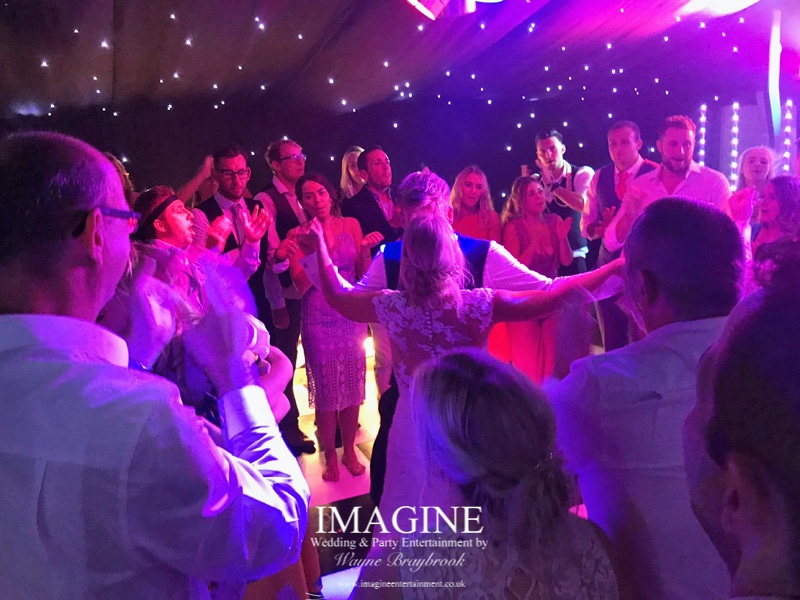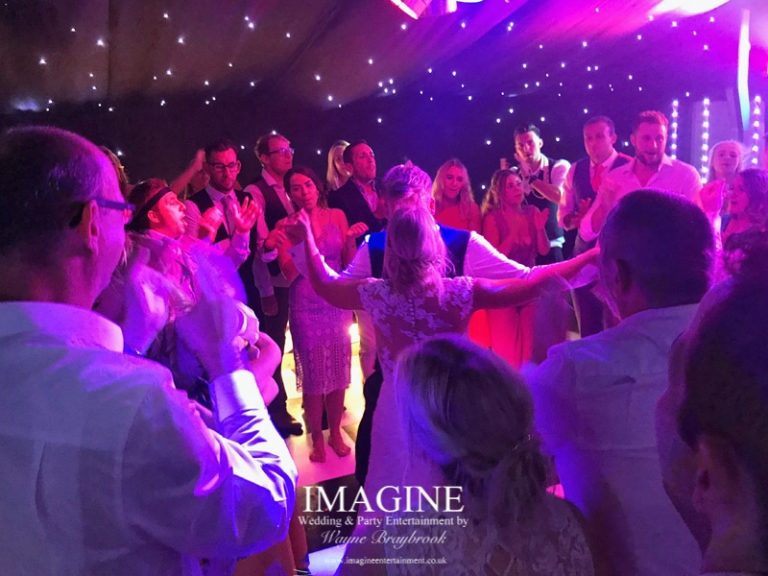 Having not met Alex and Matt (we'd only communicated via email), I had very little to go on with regards to the musical preferences etc.
In fact, I had a list of around 20 songs they wanted to hear….the rest was down to me.
Refreshingly of late, I was also allowed to take requests from guests and use the microphone.
It can make one hell of a difference at times.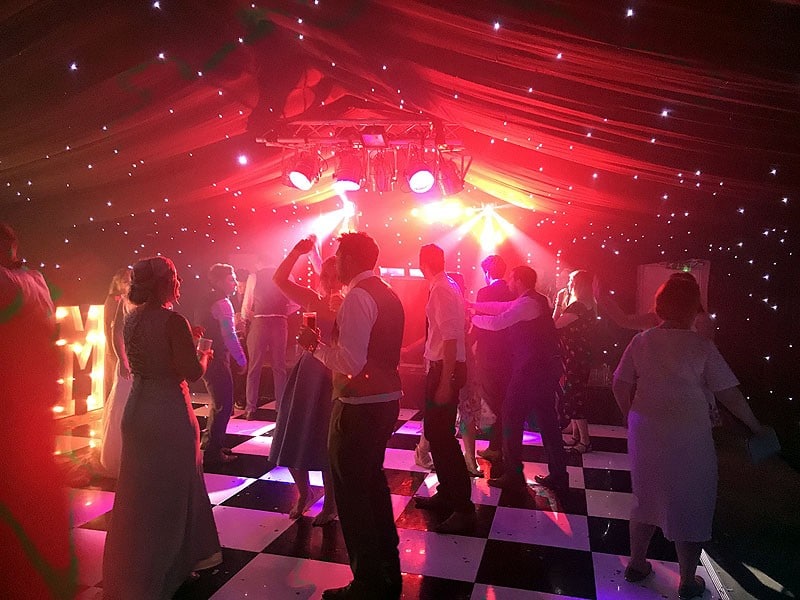 When you allow me to do this, it doesn't mean the music turns into something you don't want to hear (I use a LOT of discretion on that front).
It also doesn't mean I turn into a stereotypical DJ from the 1980s who likes the sound of his own voice…far from it!
Anyway – back to the plot…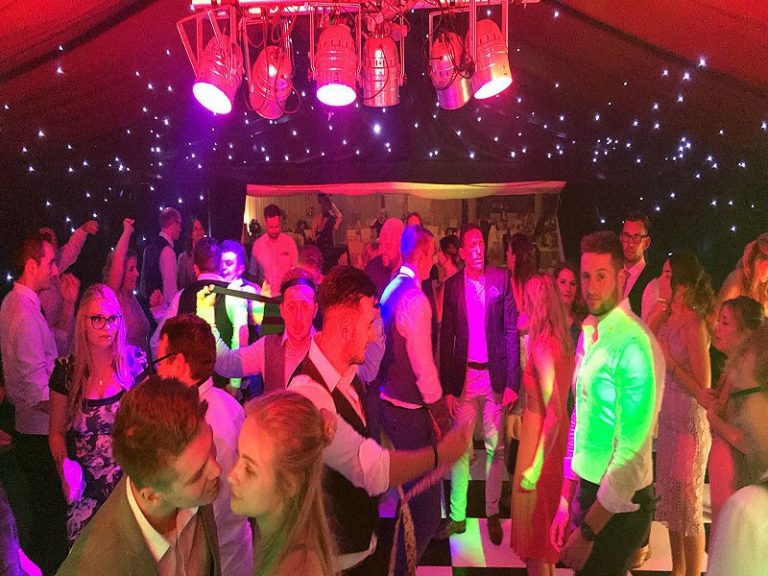 The first dance finished (Ed Sheeran's "Perfect") and we're up and running.
The next song up was Whitney's "Wanna Dance With Somebody" which was in the small list I'd been given.
Looking at the guests already on the dance floor, this one was going to work a treat….and I wasn't wrong 🙂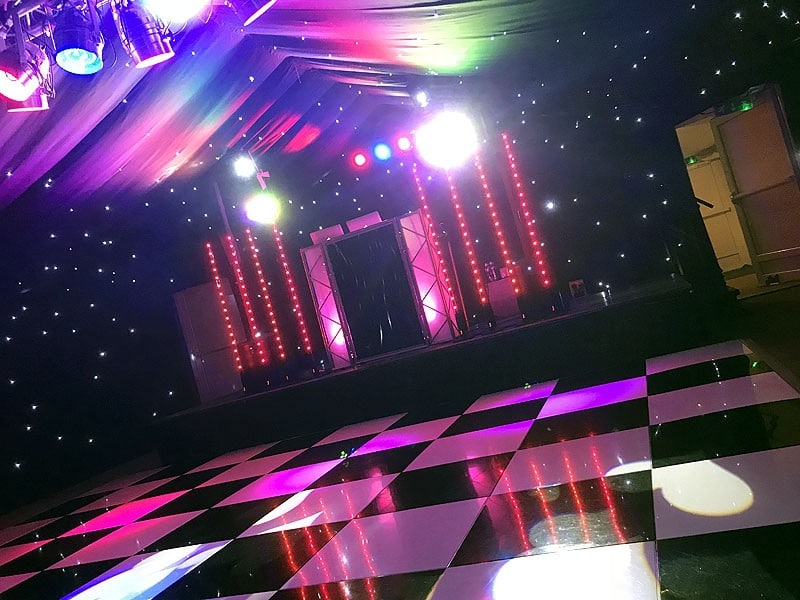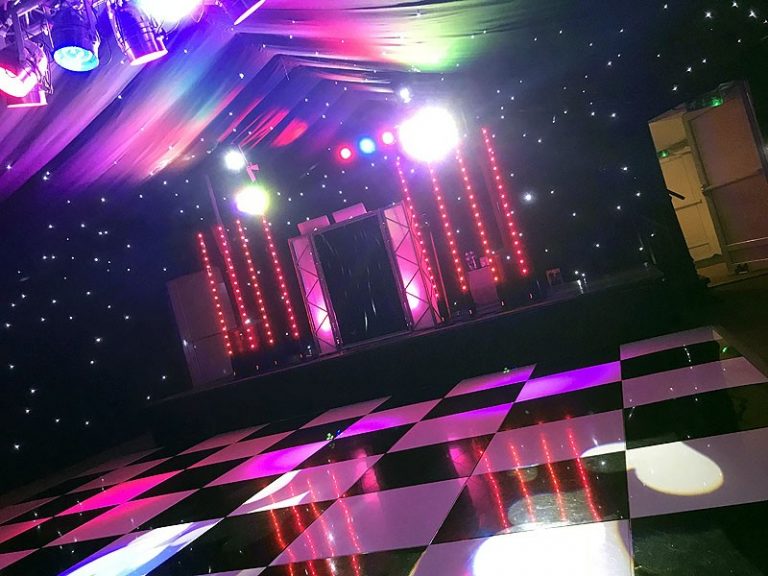 Now normally in The Old Hall, I try to play things a little bit safe until the evening buffet's been served.
Whilst it's always nice to get the floor full and bouncing early on in the evening, things tend to stop for the buffet and it can then be hard work rebuilding the atmosphere.
Last night…I was never going to get away with that plan of action.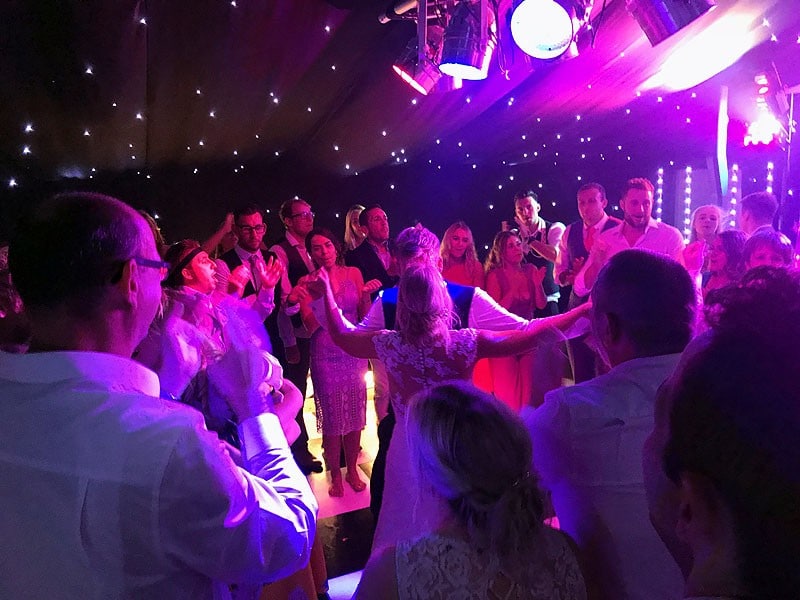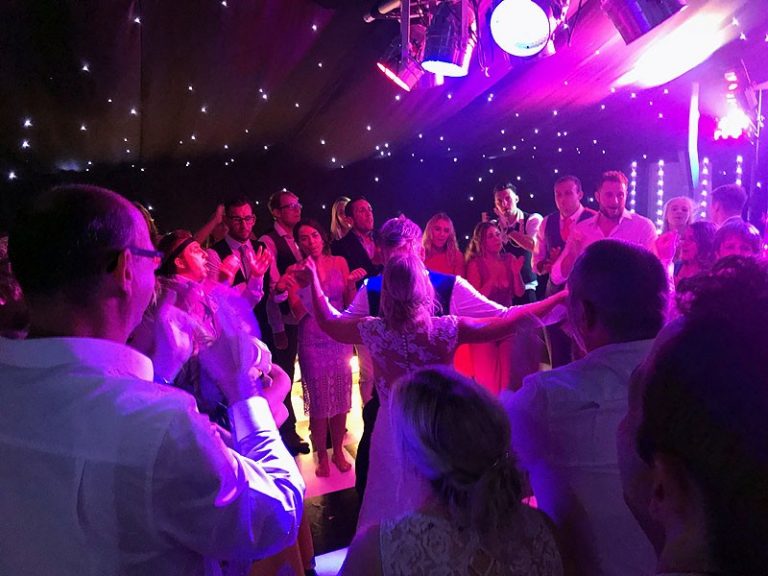 Requests poured in from guests and if I'm honest, I was beginning to worry that I was going to "peak" too early and end up with a tired and diminishing crowd towards the end of the night.
I really needn't have worried on that score.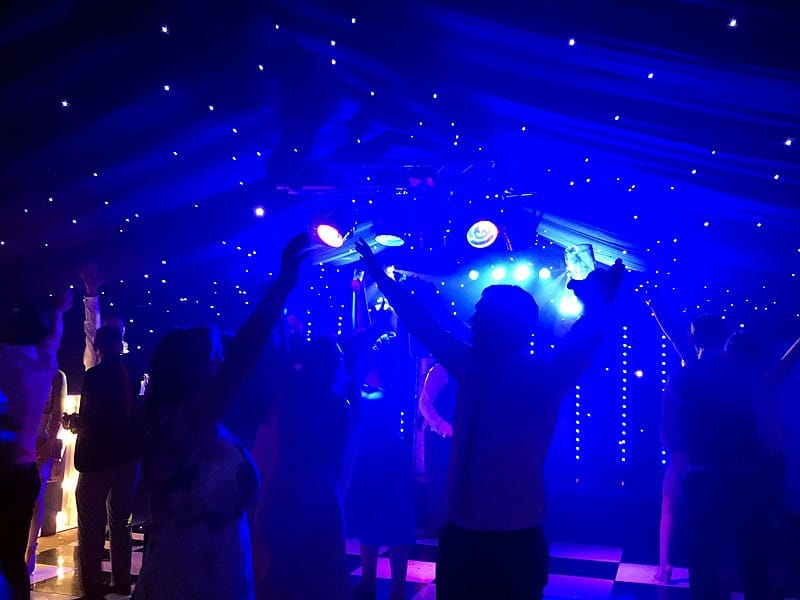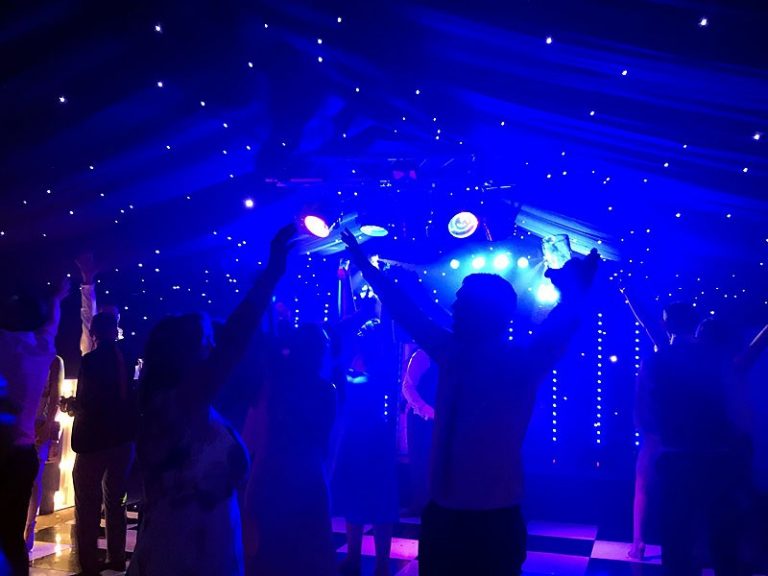 Now having said I use my discretion with guest requests, I'd been told by Matt whilst they "practised" their first dance that the stags had enjoyed dancing to some really cheesy music whilst they were away, and he thought it'd go down a treat during the evening. Never one to miss the opportunity to give the happy couple and their guests what they want, we spent a good hour with tunes from the likes of The Nolans, S-Club 7, Steps and RedNex (note….NO action dances such as YMCA and Macarena and certainly no Baby Shark).
It was just cheesy enough to get people up and dancing without being cringe-worthy….and that's a nice way to do things.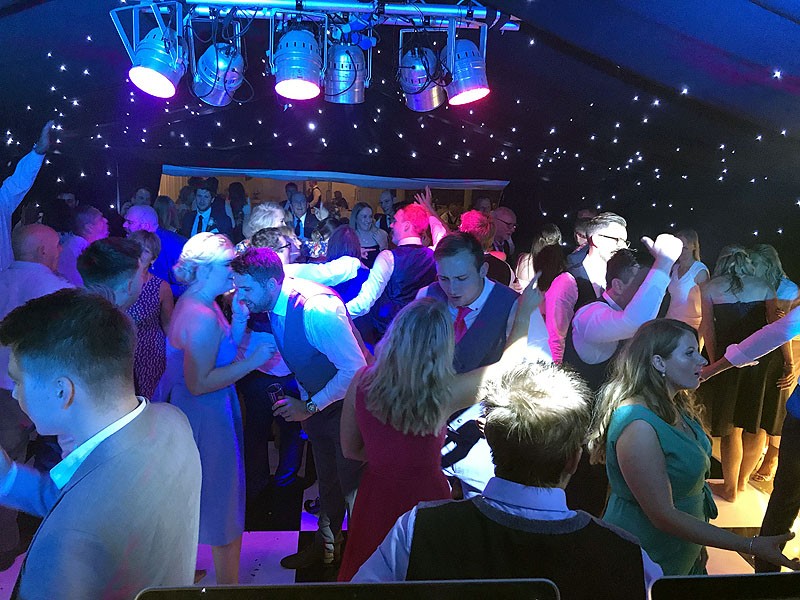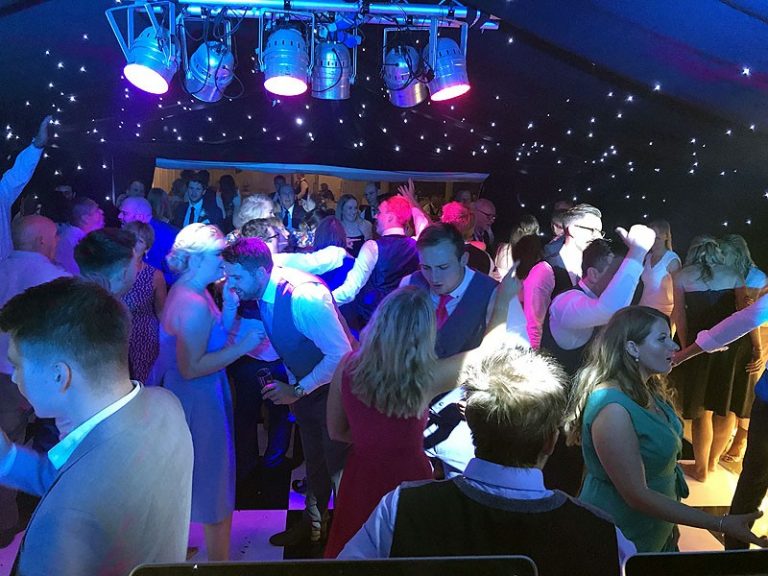 As the night progressed we dipped in and out of more genres than I care to remember.
Rock, Indie, Britpop and R&B all took their place and all were met with cheers, arms in the air and a lot of dancing….it was absolutely fantastic from my side of the booth.
How do you end a night this good?
Alex and Matt had requested that the last song of the night should be Mr Brightside by the Killers.
So, the last 10-15 minutes are spent winding up to a big finish (because at The Old Hall music HAS to stop at midnight….it's a condition of their entertainment license and I can't disobey that)
And the best part apart from coming home with a big, beaming smile on my face at 2am on Sunday morning? When this drops into the email at lunchtime from Alex
And now for some photos of the evening
I don't spend a lot of time taking photos whilst I'm working….that's not what I'm there to do. However, it's always nice to grab a couple of shots of the evening's action just as a keepsake of how things went
And finally – the playlist
This one was very much a mix of a few favourites which Alex and Matt had requested before the evening, and requests from their guests on the night. It was one of those parties which just WORKED – the guests loved the music (well….they did choose it!), and filled the dance floor for the entire evening 🙂
Ed Sheeran – Perfect (First dance)
Whitney Houston – I Wanna Dance With Somebody (Who Loves Me)
Justin Timberlake – Can't Stop The Feeling
Mark Ronson Feat. Bruno Mars – Uptown Funk
Michael Jackson – Billie Jean
Earth Wind and Fire – September
The Rolling Stones – Brown Sugar
The Rolling Stones – (I Can't Get No) Satisfaction
Lynyrd Skynyrd – Sweet Home Alabama
Katy Perry – Swish Swish
The Supremes – You Can't Hurry Love
Martha Reeves – Dancing in the Street
Wham – Wake me up before you go go
A-ha – Take On Me
S Club 7 – Reach
The Spice Girls – Megamix
B Witched – C'est la vie
Chesney Hawkes – The One And Only
Toploader – Dancing in the Moonlight
Whitney Houston – How Will I Know?
Luther Vandross – Never Too Much
Alexander O'Neal – Criticize
Gala – Freed from desire
Avicii – Levels
Faithless – Insomnia
Texas – Halo
Neil Diamond – Sweet Caroline
Ike and Tina Turner – Proud Mary
Dexys Midnight Runners – Come On Eileen
The Nolans – I'm In The Mood For Dancing
Dolly Parton – 9 To 5
John Travolta & Olivia Newton-John – Grease Megamix
Rednex – Cotton Eye Joe
Vengaboys – We Like To Party
House Of Pain – Jump Around
Dizzee Rascal – Holiday
Disclosure Feat Sam Smith – Latch
Chris Brown feat. Benni Bernassi – Beautiful People
Nicki Minaj – Super Bass
Avicii – Silhouettes
Gyptian – Hold You
One direction – Live While We're Young
Florence + The Machine & Dizzee Rascal – You've Got The Dirtee Love
Madness – Baggy trousers
Madness – One Step Beyond
Dizzee Rascal – Holiday
Aerosmith – I Don't Want To Miss A Thing
Bryan Adams – Summer of ´69
Bon Jovi – Livin On a Prayer
The Fratellis – Chelsea Dagger
Kings Of Leon – Sex On Fire
Guns N Roses – Sweet Child O Mine
Chumbawamba – Tubthumping
Reef – Place Your Hands
Blur – Song 2
Kaiser Chiefs – I Predict A Riot
Oasis – Wonderwall
Neil Diamond – Sweet Caroline
N TRANCE – Set You Free
Kings Of Leon – Sex On Fire
The Killers – Mr Brightside
Are YOU planning a wedding at The Old Hall?
If so I'd LOVE to hear from you!