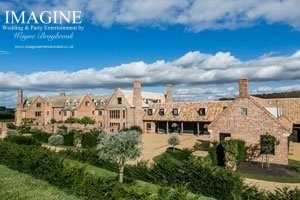 Old Hall Ely is my most visited wedding venue, and definitely my favourite to work in. Being just 5 miles from the front door, I'm also probably the most local DJ to the venue!
You can read more about how the evening reception typically works in The Old Hall here
The Old Hall itself is a fully restored Jacobean manor house with views over the Ely Fens to Ely Cathedral.
Wedding breakfasts are served in the dining marquee attached to the back of the building. This is a permanent, heated structure as opposed to being a temporary tent and is used all year round.
The dining marquee also hosts a fully stocked bar and has the facilities for background music during your wedding breakfast and microphones for those all important speeches.
The staff and coordinators at The Old Hall are some of the best I've worked with, and will do everything in their power to ensure your day runs the way you want it to!
Later in the evening once the cake is cut and your evening guests have arrived, the curtain at the end of the dining marquee will be drawn back to reveal you as newlyweds taking your first dance in the black, starlit dance marquee.
The dance marquee is stunning: Fully draped in black with twinkling starlights throughout, and the effects of the disco….it's theatrical and there aren't any photographs which do the overall effect justice.
Want to see some real-life examples?
Here are just a few of the weddings I've had the pleasure of entertaining for at The Old Hall
The setup I tend to use in the Old Hallis designed to maximise the theatrical and slightly surreal effect of the whole dance area. Instead of the traditional white setup used for most weddings, I use an all black setup meaning that the emphasis is placed on the effects the lights are producing.
It really does need to be seen to be believed.
Music must generally end at midnight at Old Hall due to local licensing laws, and these are rules which I have to adhere to.
The use of haze/smoke is welcome and adds a nice ambience to the dance marquee. However effects such as bubbles and snow are not allowed. As of 2018, a single confetti cannon is allowed to be used during the evening and as this is my most visited venue, I'm happy to include a confetti cannon into your package for the evening FREE OF CHARGE.
The contact details for The Old Hall are:
The Old Hall
Stuntney Causeway
Stuntney
Ely
CB7 5TR