Last night saw me back in my favourite venue at the third of three weddings in one weekend! And it's a party I'll remember for a very long time to come!
Regular readers will know that I do more than a few weddings at The Old Hall in Ely every year. In fact, it's sort of like a second home to me.
Even after as many weddings as I've had the pleasure of entertaining for in there, the stunning starlit dance marquee still leaves me in awe at the theatricalness of it, especially when alone and setting up.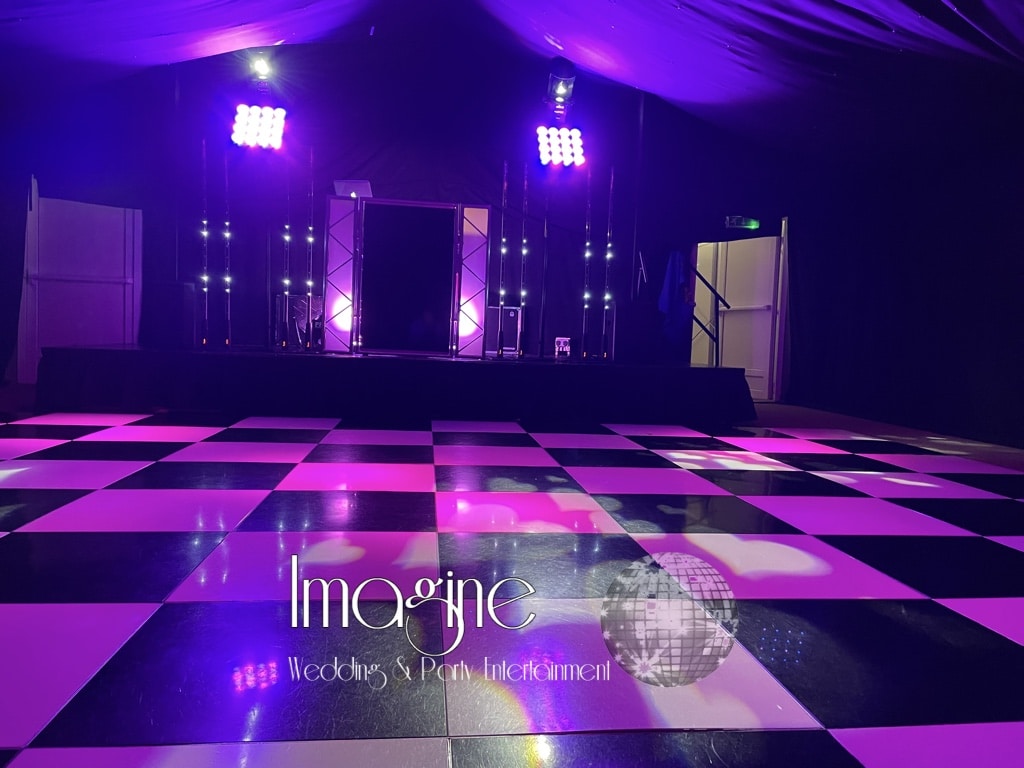 As with so many couples recently, a certain pandemic has stopped us from physically meeting up before the big day, and Laura and Kier were no exception with everything being done over email.
Not a massive problem and we got there, but it's always nice to get to know people before I rock up with the kit and press play.
I turn up at The Old Hall around an hour before the start of the evening party, and last night was no exception.
But as I got out of the van I couldn't help but notice that the music coming from the dining marquee was a little "different". It certainly wasn't the in-house PA system and there was far too much guest participation.
Laura and Kier had hired a mariachi band to entertain their guests after the wedding breakfast and on peeping through the curtains between the two marquees, I could see guests dancing on tables and singing along. 
This was going to be a good one!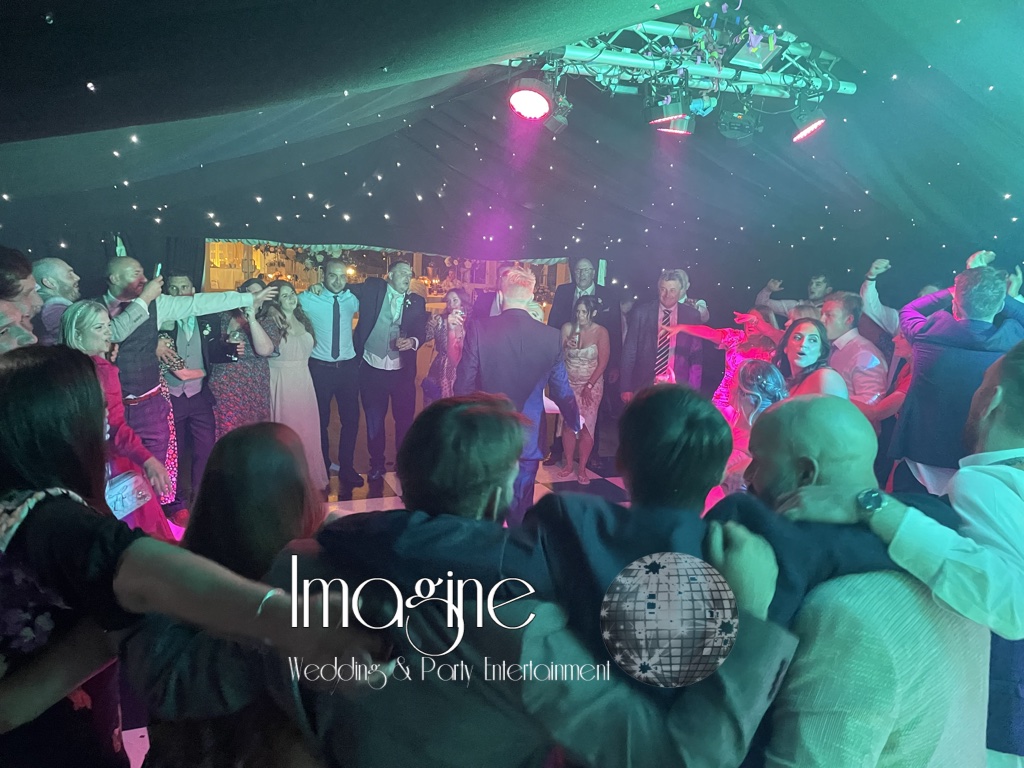 Time for the evening party then!
Everything set up, tested and ready to rock and roll, Laura, Kier and I finally meet as they're brought into the dance marquee for their first dance.
This is always a special moment. It's just the couple, their photographer, a wedding coordinator and yours truly – and it's time for a quick breather before the curtains are whisked back to reveal the couple doing their first dance.
On this occasion, we started with You Make My Dreams by Alex Francis and mixed it into the Hall & Oates version as the guests were invited to join them on the dance floor.
From that moment on, the dance floor very rarely emptied (well….apart for safety reasons when glasses of drink were dropped despite the rules of the venue!)
Drinks on the dance floor are rarely a good idea and so unnecessary!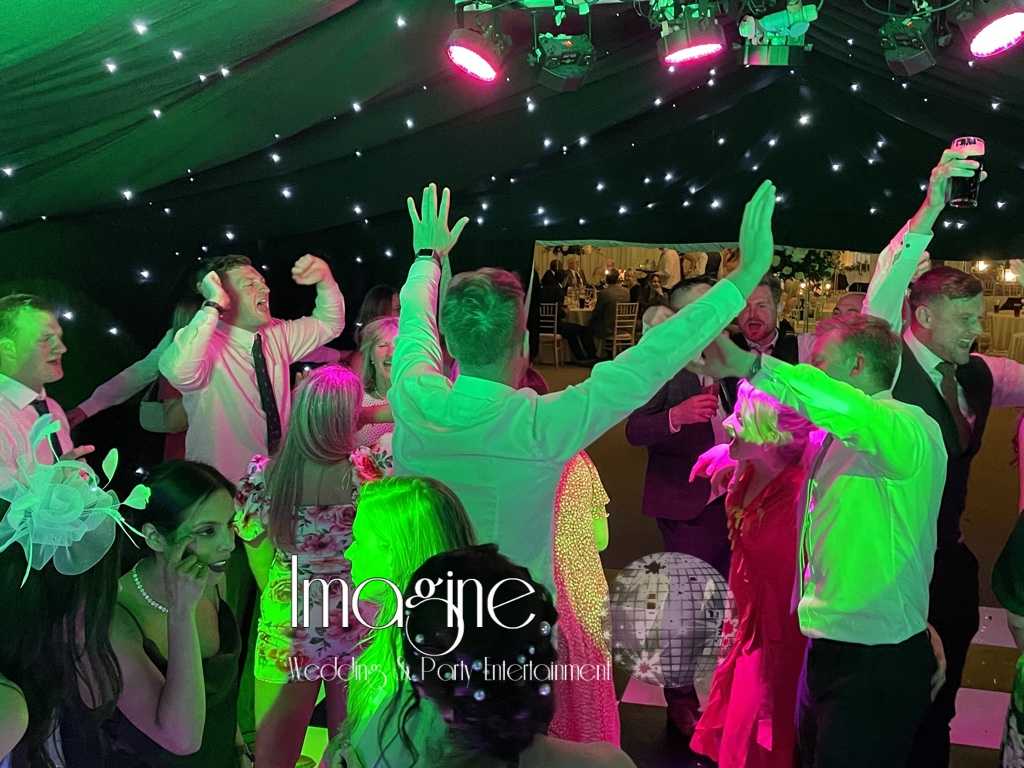 A fake finish to the night
Now there are times dear reader, when decisions have to be made on how I'm going to end the night.
Laura and Kier had chosen a specific track (Champagne Supernova by Oasis) to end their night and when I have a track requested to end on….that's the last track that will actually be played out of respect to my couple.
But, when the party's going as well as last night, you just know that announcing the last song of the night isn't going to end up with everyone accepting it and going home nicely, especially when alcohol's involved.
So, I use a trick called the "fake finish". It's something I discuss with all of my couples before the big day.
It basically involves announcing the last song of the night earlier than normal and playing something equally rousing (in this case, DJ Otzi's Sweet Caroline). When the chants inevitably come for "One More DJ", I still have time to play my couple's selected  last song of the night whilst satisfying the guests AND adhering to licensing laws (because I cannot disobey those under any circumstances).
It went down an absolute treat with a massive "Circle of Love" on the dance floor around Laura and Kier to end the night and everyone singing their hearts out 🙂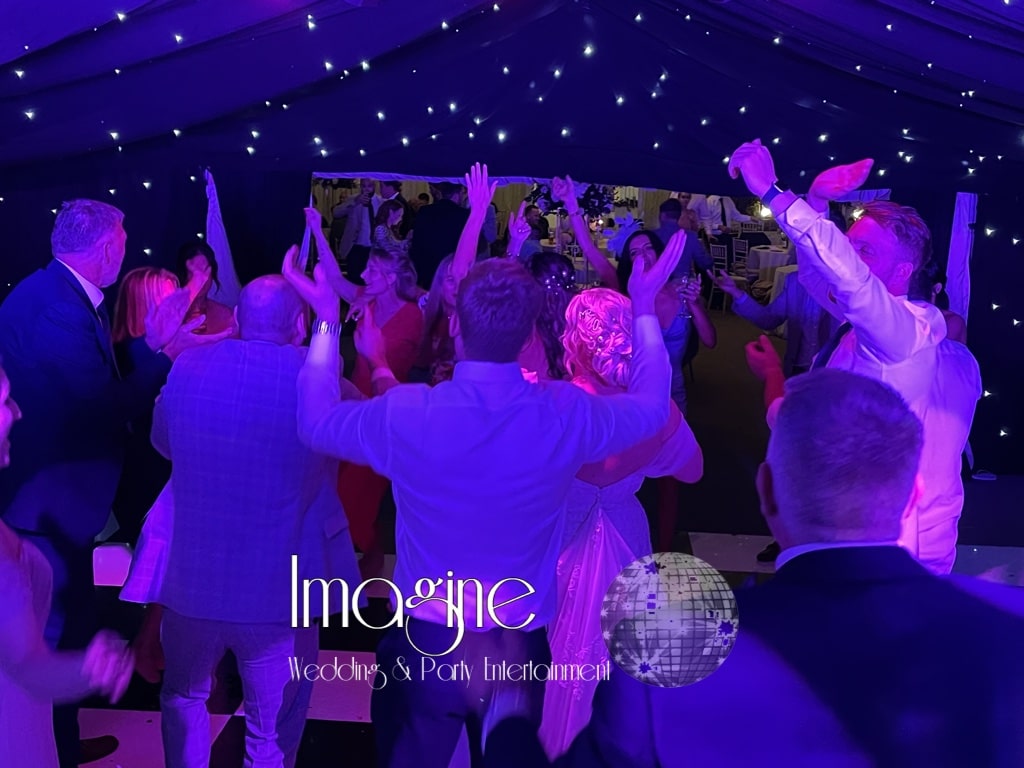 Some proof of how full the dance floor was?
I'm by no means a professional photographer and all of the below are taken on my phone camera as and when I get a moment (it's not my job to take photos). Hopefully they'll give some idea of how the evening went though…
So what was the playlist that caused this much dancing?
Laura and Kier had provided a very sensible list of a couple of dozen songs they'd like included, a couple they absolutely didn't want and the rest was up to me.
The provided list was of an older ilk with most of the music selections ranging from Motown to 90s pop and just a couple of more modern tracks, and that suited the guests that were there.
Mixed with the guest requests….this is what was played on the night
Alex Francis / Daryl Hall & John Oates – You Make My Dreams
Michael Jackson – Michael Jackson Medley
Billy Ocean – Get Out Of My Dreams, Get Into My Car
Electric Light Orchestra – Mr. Blue Sky
ABBA – Does Your Mother Know
Lionel Richie – Dancing On The Ceiling
Wham – I'm Your Man
B52s – Love Shack
Kenny loggins – Footloose
Whitney Houston – I Wanna Dance With Somebody (Who Loves Me)
Abba – Dancing Queen
Gloria Gaynor – I Will Survive
The Weather Girls – It's Raining Men
Earth Wind and Fire – September
Tori Amos- Professional Widow
Robin S – Show Me Love
Crystal Waters – Gypsy Woman (La Da Dee La Da Da)
DJ Otzi – Hey Baby
OutKast – Hey Ya!
Abba – Gimme Gimme Gimme A Man After Midnight
Tom Jones – Sex Bomb
Ricky Martin – Livin' La Vida Loca
Five – Lets Dance
Rednex – Cotton Eye Joe
Vengaboys – We Like To Party (The Vengabus)
LMFAO – Party Rock Anthem
LMFAO – Sexy and I Know It
Hermes House Band – Country Roads
Ike and Tina Turner – Proud Mary
Cher – The Shoop Shoop Song (It's In His Kiss)
Elton John – Crocodile Rock
The Beatles – Twist and Shout
Kim Weston And Marvin Gaye – It Takes Two
The Four Tops – I Can't Help Myself
Dexy's Midnight Runners – Come On Eileen
Bryan Adams – Summer of ´69
Bon Jovi – Livin On a Prayer
Queen – We Will Rock You
Queen – Don't Stop Me Now
Guns N Roses – Sweet Child O Mine
The Fratellis – Chelsea Dagger
Chumbawamba – Tubthumping
Arctic Monkeys – I Bet You Look Good On The Dancefloor
Oasis – Wonderwall
Wheatus – Teenage Dirtbag
Supergrass – Alright
The Boo Radleys – Wake Up Boo!
Nelly Feat. Danni Stevenson – Hot In Herre
Usher – Pop Ya Collar
Sweet Female Attitude – Flowers
Artful Dodger feat. Lifford – Please Don't Turn Me On
The Verve – Bittersweet Symphony
Wham – Club tropicana
The Spice Girls – Megamix
Five – Everybody Get Up
Aerosmith & Run-DMC – Walk This Way
Bill Medley & Jennifer Warnes – (I've Had The Time of my Life)
Abba – Mamma Mia
DJ Ötzi – Sweet Caroline ***FAKE ENDING SONG***
Oasis – Champagne Supernova ***LAST SONG OF THE NIGHT***
An absolutely BRILLIANT night from my side of the booth. Lots of dancing, lots of tired feet and doubtless lots of hangovers the next morning. And although my third in three days, I went home absolutely buzzing with energy!
Are you going to be celebrating at The Old Hall in Ely?
If so, we need to talk!
It's a venue I work at on a regular basis so I'm more than familiar with how things are supposed to work and get on really well with the events team. If you look back through previous events at The Old Hall, you'll see they're all blimmin' busy nights on the dance floor!