A very full weekend of weddings last weekend saw me at a new (to me) venue for Catherine and Martin's big day.
This was to be a long day, with me providing the music for the ceremony, the afternoon reception and of course the evening party. I LOVE these days because it gives me a chance to get to know the guests.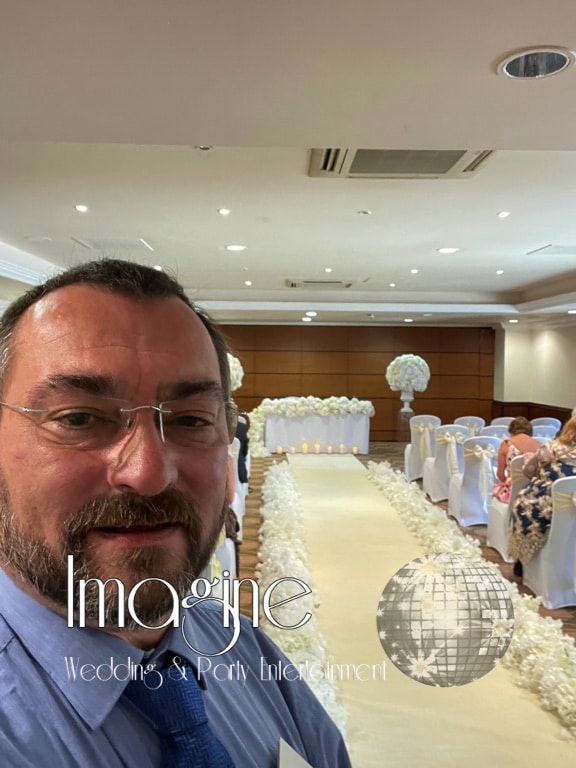 I LOVE being there all day (I already mentioned that). But I especially love being there for the "I Do's", despite my role in this part of the day being quite stressful.
Luckily, I was working with Ace Toastmaster Ian Ellis for the day, so a little of the legwork was taken from role (when a Toastie's on-site at a wedding, they run the day).
In the lead up to a ceremony, the music will be checked multiple times to ensure I've got the exact versions required (especially important when Registrars are officiating as there are strict rules as to what is and isn't allowed). The equipment is sound checked several times before I even arrive on site, and then again once in-situ. It's vital that absolutely nothing is allowed to go wrong for this part of the day.
So, equipment in place and happy it's working, and it's a quick chat with the Registrars to coordinate the signals they're going to be using for my cues during proceedings (and they're very discrete signals – I have to pay full attention!).
Right on cue, Catherine enters the room and we're off and running. It was an absolutely beautiful ceremony and as always I breathed a huge sigh of relief once that part of the day had passed without problems.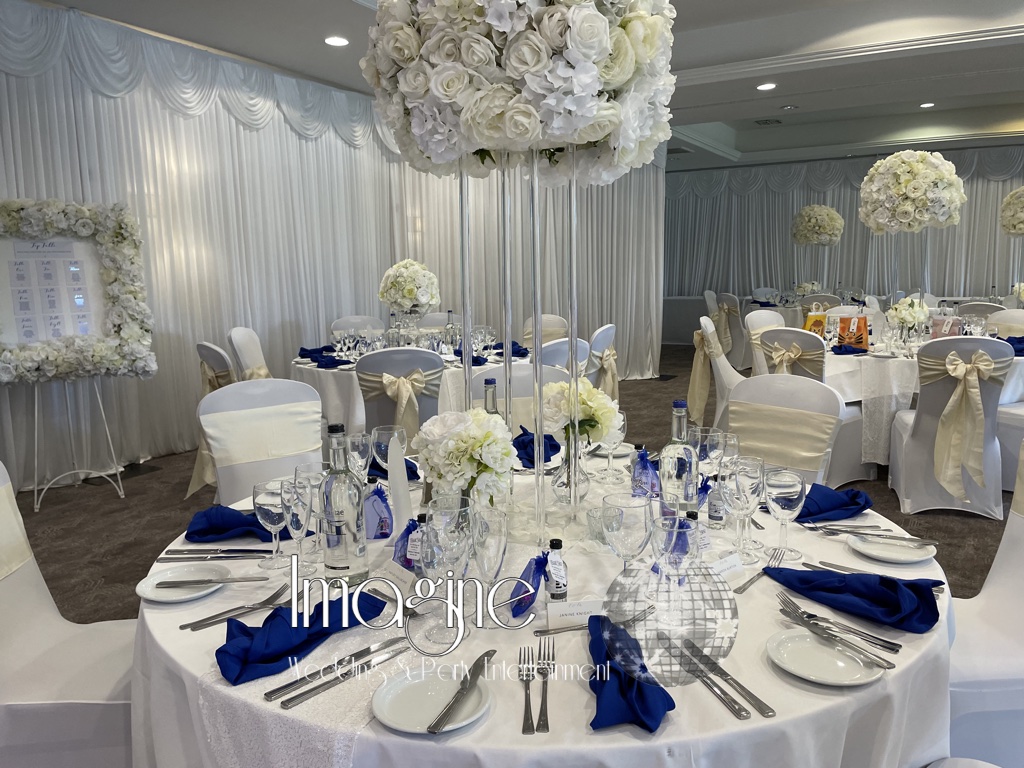 With the ceremony completed and the guests having the photo's done, it was time for a last minute check of the main disco setup in the function room to ensure all was as it should be (it had been set up a couple of hours before the ceremony began).
This is one of the parts where working with a Toastmaster really helps. He takes the role of assisting the photographer with getting the right guests into the right photos whilst I concentrate on getting the musical side of things just right.
The room looked STUNNING in a blue and ivory theme.
To complement this, I'd setup my completely white equipment, and also provided both LOVE letters and my "Your names in lights" projection.
As the guests arrived into the room, it's time to put on a pre-prepared (on this occasion) mix of background music at a gentle volume so it can be heard, but not overpower conversation.
After a sumptuous three course meal it's time for the speeches, for which I provided microphones to allow them to be heard right around the room.
After the meal and speeches, the guests were asked to leave the room as is normal in most hotel settings to allow the staff to "turn the room around" for the evening portion of the day.
This is the part where I really get to know the guests and they're musical tastes by mingling with them 🙂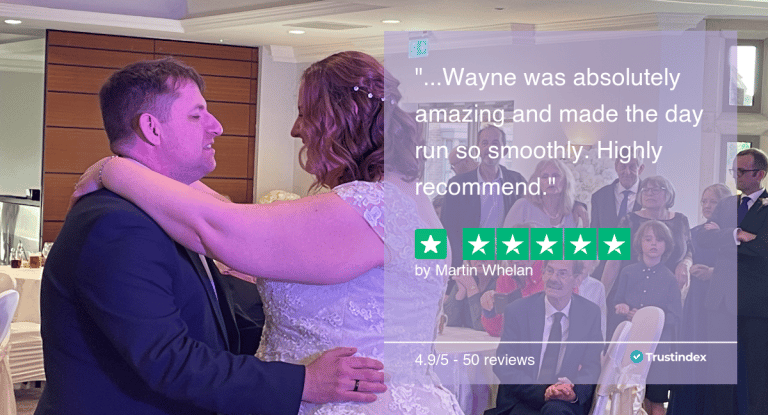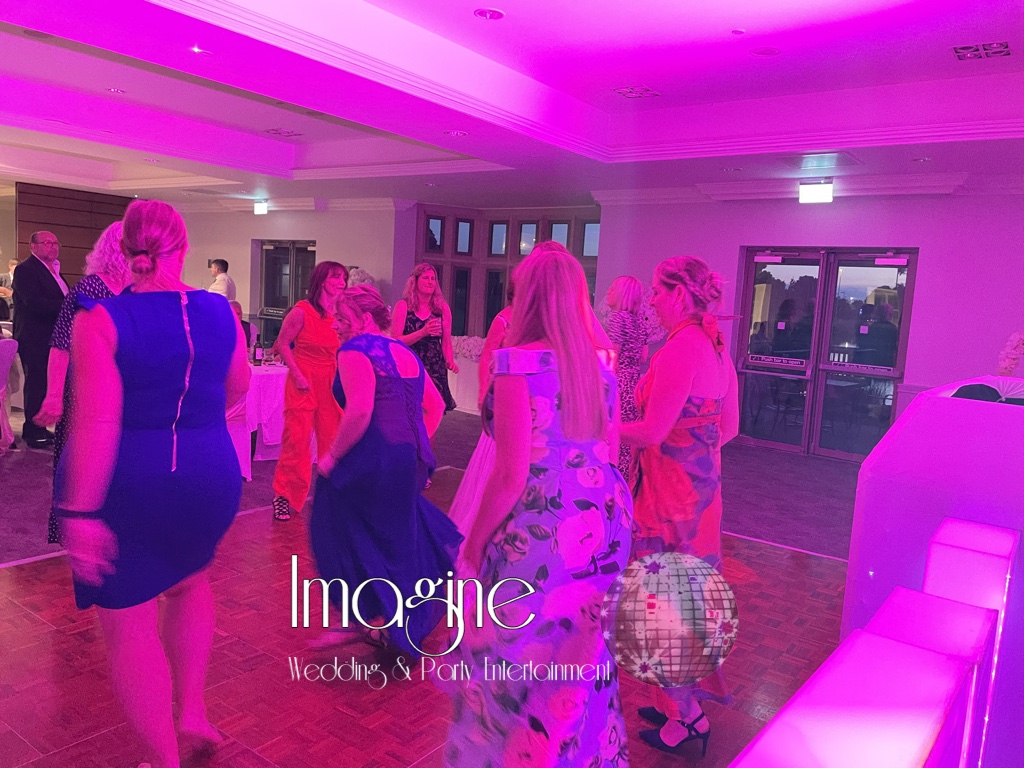 By this part of the day, the Toastmaster had departed leaving me to announce the cutting of the cake, the first dance (Adele's "Make You Feel My Love"), and a Parent and Children dance (Jame's Taylor's "How Sweet it is").
And then….party time.
Now this part of the day could have gone two very different ways. What I've not mentioned yet is that the ceremony was a midday and the evening started at 7:30. The wedding was also on a Sunday (when it was booked it was supposed to be a bank holiday weekend but that got moved due to the Queen's Platinum Jubilee).
That's a VERY long day for a lot of guests  especially when many of them have work the next day, and it's not unusual to see a steady trickle of guests leaving early to prepare for work the next day.
Thankfully, that wasn't the case for Catherine and Martin's day and we managed to get the dance floor moving nicely 🙂 
Catherine and Martin had provided a very small list of must plays, with the rest up to me and the guests' reactions.
So....some photos of the day
As usual, I'm not a photographer and only take snaps as and when I'm not doing other things…it's not my reason for being there. They may be blurry, they may be funny colours….they are what they are but should give an idea of how things went.
Some of the playlist had been provided by Catherine and Martin with a very strong hint at music from the 70's to the 90's so the rest of the evening borrowed heavily from those ideas.
Adele – Make You Feel My Love
James Taylor – How Sweet It Is (To Be Loved by You)
Mud – Tiger Feet
Bee Gees – Night Fever Michael Jackson – Billie Jean
Gloria Gaynor – I Will Donna Summer – Hot Stuff  
Lionel Richie – All Night Long (All Night)
ABBA – Dancing Queen
The Nolans – I'm In The Mood For Dancing
Whitney Houston – I Wanna Dance With Somebody (Who Loves Me)
Aha – Take on Me
Kenny Loggins – Footloose
Wham! – Wake Me Up Before You Go-Go
Tiffany – I Think We're Alone Now
Cyndi Lauper – Girls Just Wanna Have Fun
Dolly Parton – 9 to 5
The Temptations – My Girl
Mary Wells – My Guy 
Marvin Gaye & Kim Weston – It Takes Two
Ike And Tina Turner – Proud Mary
The Supremes – You Can't Hurry Love
Abba – Waterloo 
ABBA – Mamma Mia
The Weathergirls – It's Raining Men
Culture Club – Karma Chameleon
Dexys Midnight Runners – Come on Eileen
Bryan Adams – Summer Of '69
Bon Jovi – Livin' On A Prayer
Queen – We Will Rock You
Status Quo – Rockin' All Over the World
Queen – Don't Stop Me Now
The B-52's – Love Shack
Pet Shop Boys – Heart 
The Spice Girls – Megamix
Cher – Believe

***the following were prompted from a guest request which was approved by Catherine – they're not normally played at weddings unless you allow them***
DJ Casper – Cha Cha Slide
Los Del Rio – Macerena
Whigfield – Saturday Night
John Travolta; Olivia Newton-John – Grease Megamix
Steps – 5,6,7,8
Rednex – Cotton Eye Joe

***and back to normality***

Wilson Phillips – Hold On
David Bowie – Absolute Beginners  
Queen – Crazy Little Thing Called Love
The Rolling Stones – Brown Sugar  
The Who – Who Are You 
The Who – Pinball Wizard 
Elton John – I'm Still Standing
Katrina & the Waves – Walking on Sunshine
The Proclaimers – I'm Gonna Be (500 Miles)
Peter Kay/Tony Christie – (Is This the Way To) Amarillo  
DJ Ötzi – Sweet Caroline 
Steps – Tragedy
Pulp – Disco 2000  
Blur – Song 2
Cornershop – Brimful Of Asha  
Walk the Moon – Shut Up and Dance
Pitbull feat. Ke$ha – Timber
Nicki Minaj – Starships 
LMFAO – Party Rock Anthem
The Killers – Somebody Told Me
Kings Of Leon – Sex on Fire
The Killers – Mr Brightside
The Fratellis – Chelsea Dagger
The Undertones – Teenage Kicks
Wheatus – Teenage Dirtbag  
ABBA – Gimme! Gimme! Gimme! (A Man After Midnight)
Ed Sheeran – Thinking out Loud
Bill Medley; Jennifer Warnes – (I've Had) The Time of My Life
A very long day (16 hours from leaving home to arriving back home!), a beautiful venue to work in and a lot of happy and smiling guests dancing the night away….what's not to like?
Are YOU getting married at the Cambridge Belfry?
Why not get in touch to see if I'm available for YOUR day?