Wedding receptions certainly don't come much better than this one!
When I got the call from Stefan to be the DJ for his and Aimee's evening reception and found out that it was to be in a marquee….life started to feel normal again.
Pre-covid, I spent a LOT of weekend days and evenings under canvass, and those times are finally starting to return again…yippeee!!!!!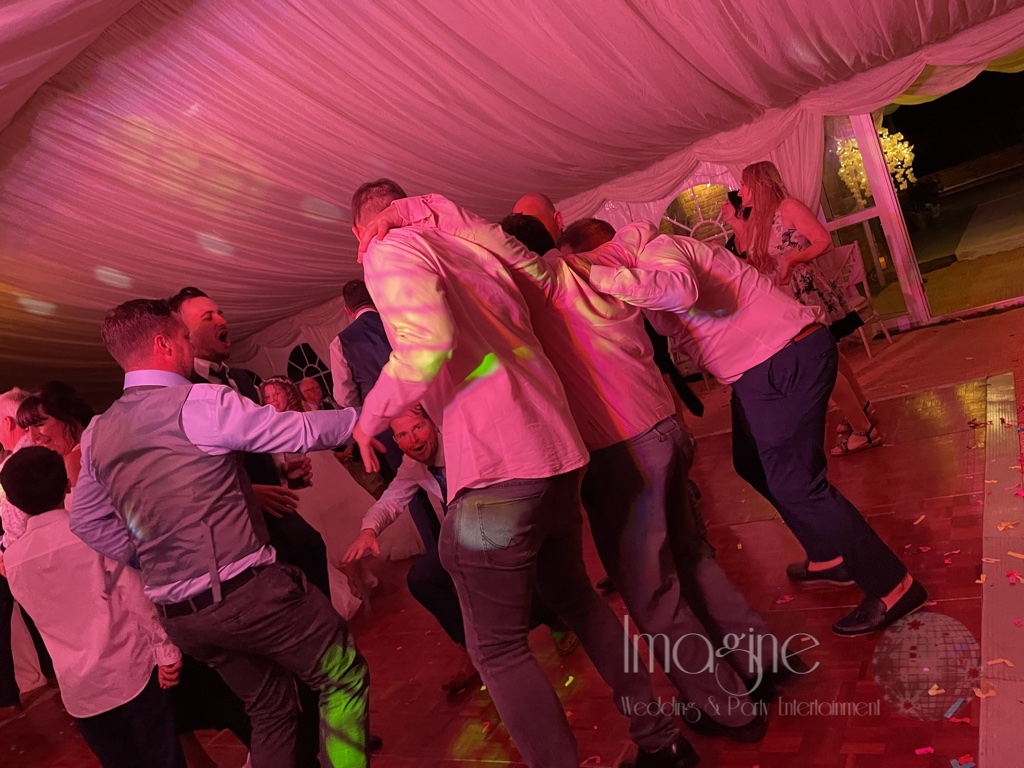 I absolutely LOVE marquee weddings!
They're not without their "problems" at times though. Where is the power coming from? What's the access like to install and take out the equipment? With marquees in private grounds, there's no way to do a venue visit before the big day because there IS no venue!
You can read more about my tips for marquee weddings here by the way!
Back to Aimee and Stefan's big night though.
When I arrived, a singer was entertaining the guests whilst they ate the wedding breakfast. Arrangements were agreed before the day on how I'd sneak in and put the disco together without disturbing anyone and in my usual way, I managed to achieve this! I'm a ninja when it comes to setting up the kit at times!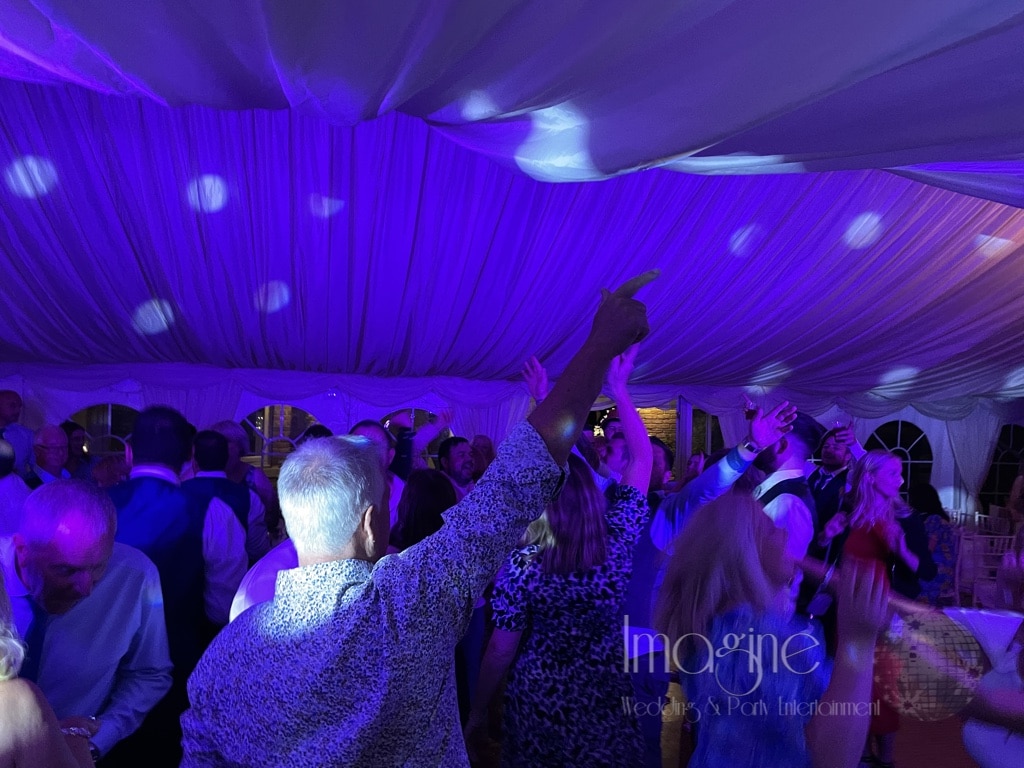 Oh what an AWESOME evening it was!
The singer finished his set, handing over to me to play background music for around an hour whilst the evening guests arrived. 
It was a mix of relatively modern pop which was light enough to enjoy in the background without drowning everything out.
And then the time came for the formalities of cake cutting, first dance, daddy/daughter dance and a surprise which I learned about on the evening….a Hen's dance!
The Hens had come up with a very professional dance routine to Time of my Life from Dirty Dancing….it was amazing to watch!
Well, what can I say? It's been a VERY long time since I've seen a dance floor so full for so long!
Stefan had sent me a request list which went into around 11 hours of music, and the evening before contacted me to ask me to use it only as a guide, accept guest requests and go with my knowledge of what's going to work and what's not.
Who am I to refuse a request like that?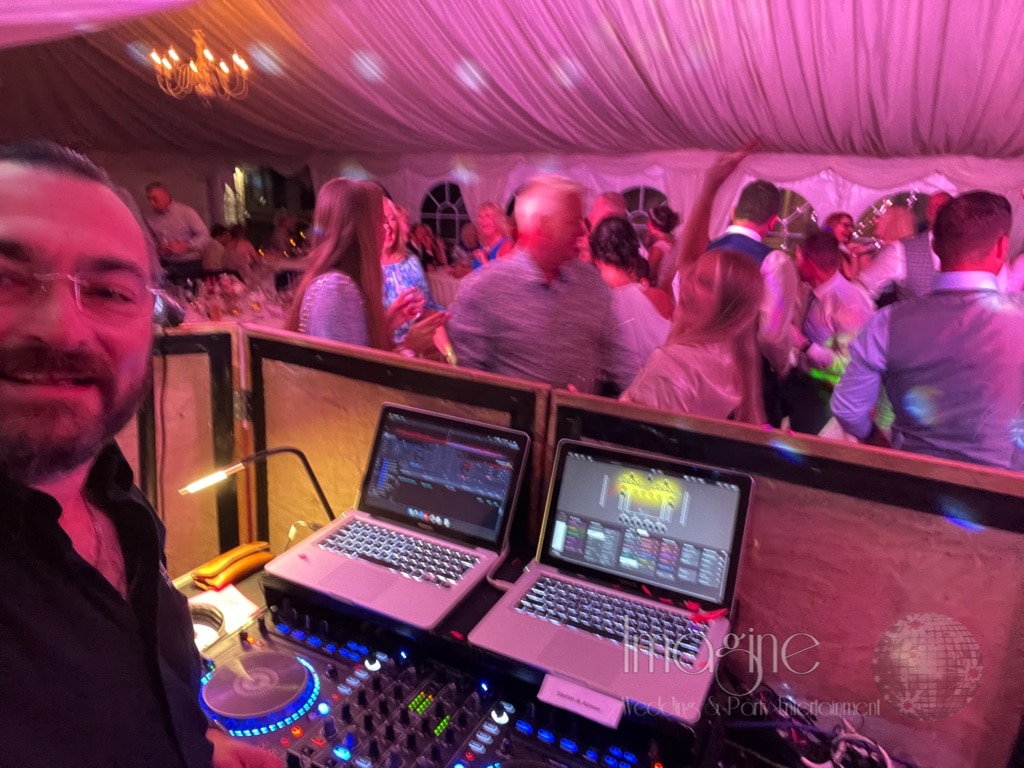 The dance floor never emptied!
All DJs will tell you that there are always certain times of the evening when there's a bit of a lull on the dance floor. Things like evening buffet's being served, guests just naturally wanting a rest…there are many reasons.
Not at this wedding though!
From the end of the Hen's dance right through to the last song of the night (and the two I sneaked in afterwards!), there was never a dull moment on the dance floor in front of me.
Guest requests poured in, my brain cell went into overdrive with matching tracks as we steadily went from genre to genre.
It was truly brilliant to be a part of such an energetic and happy occasion!
Sadly, the witching hour came around and despite pleas for even more music after the extra songs I'd already played, it was time to turn off and pack away the gear. That's not me being a misery by the way….with events in private gardens such as this you always run the risk of neighbours complaining to the police if you go on for too long and I really wouldn't want the Boys in Blue to turn up and end the party for you.
So....some photos of the evening's action
I'm sadly not a professional photographer (that's not what I'm there for), but do like to snap a couple of pictures of the evening's action on the phone.
Get in touch to check my availability for YOUR marquee reception