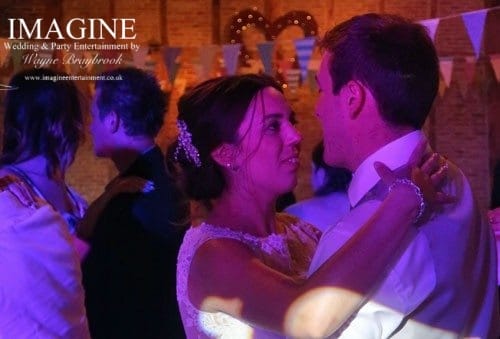 The results are now in….the First Dance tracks chosen by my wedding couples during 2018 have finally been analysed and processed, and there's some real surprises in there!
2018 has been a year with really mixed weddings. Some have been all out "wedding music" (whatever that is?!), and some have opted for specific genres such as Rock or 90s pop. One wedding even went completely all-out on the cheese (yes….we're talking Superman and Agadoo….but if that's what the client wants….)
Unsurprisingly there's no move at the top slot with Mr Sheeran's "Perfect" which has been played at 25 of the 49 weddings I've entertained at this year! That said, most of the requests for that one were in the first half of the year….popularity for that particular track is falling sharply.
Five couples opted not to have a first dance and instead go straight into the evening's dancing….and that's really not a problem. The first dance can be a frightening experience if you're not one who likes being the centre of attention and I completely understand and respect that decision.
Songs such as Amazed by Lonestar and All of Me by John Legend have completely disappeared from my radar this year. In fact 2018 is the first year where Amazed hasn't been requested as the first dance by at least one couple since it was released in 1999!
For the first time in 30 years I've had a waltz as the first dance (and to see the guests join in with that one was something else!). I've even had the '90s classic Praise You by Fat Boy Slim, which resulted in a lot of arm waving on the dance floor during the first dance!
So, without further ado and in no particular order (well…apart from the first one), here are the first dances I've played at weddings in 2018
Ed Sheeran – Perfect
Power of Love – Jennifer Rush
Stand by Me – Ben E. King
When A Man Loves a Woman  – Percy Sledge
Blue Danube – Johann Strauss
You & Me Song – Wannadies
The Tightrope Song – Michelle Williams
I Have Nothing – Whitney Houston
Just The Way You Are – Bruno Mars
Praise You – Fatboy Slim (my personal favourite first dance of the year!)
Baby I'm Yours – Arctic Monkeys
Love Will Stand – Leading Ladies
Everything – Brian McKnight
I've Had (The Time of my Life) – Bill Medley & Jennifer Warnes
Songbird – Fleetwood Mac
A Thousand Years – Christina Perri
As you can see….a real mixed bag. Some are the traditional slow songs, others….most definitely not!
Your first dance doesn't have to be slow and slushy…..it can be anything you want it to be and I'm more than happy to work with you with whatever track you select!