Wedding DJ near Cambourne
It's your wedding day. It's one of the most important days of your life, and something you've probably been dreaming of for months or even years!
As you look around your reception venue after a long and emotional day, you see your guests smiling, laughing, dancing to music that they know and love, and enjoying the evening. It's the perfect end to a day that will leave you with happy memories for a lifetime!
You've chosen an experienced and professional Wedding DJ to provide the evening's party disco and everything is exactly the way you dreamed it would be.
I regularly provide wedding entertainment near Cambourne in venues such as The Cambridge Belfry and Longstowe Hall.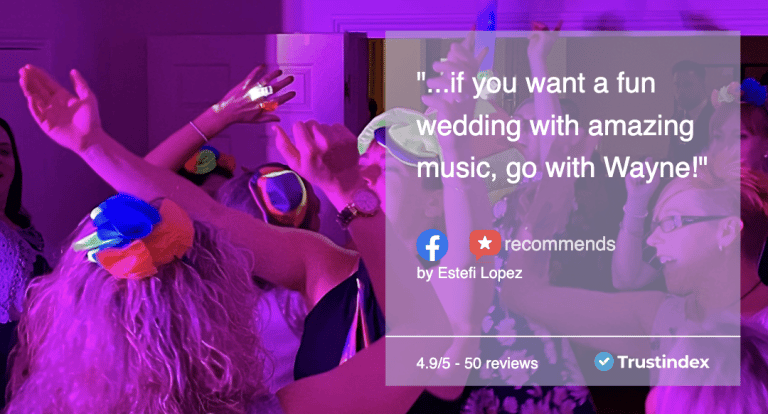 Wedding DJ & Party Mobile Disco entertainment near Cambourne you'll LOVE!
For many couples, the words "Wedding DJ" conjure all sorts of images of wedding receptions with guests line dancing to the Macarena, sitting on the floor to "Oops Upside Your Head", waving their hands in the air to YMCA, and worse!
It doesn't HAVE to be that way!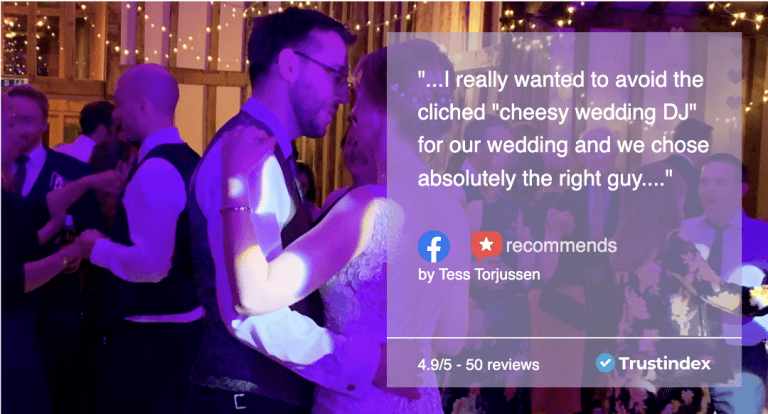 As a professional and experienced Wedding DJ and party disco DJ, I have over 30 years experience of providing exactly the style of entertainment my customers want. 
Whether you specifically WANT the classic party dances or you'd like a completely different style of music, I can work with you to create the perfect party atmosphere.
I get to call some spectacular venues my "office" whilst I'm out working at weddings. Here are just a few of them
I love my customers, and it appears they like me too!

Here are all of my online reviews conveniently gathered together on a single page
As much fun as I have filling dance floors, it's my job and I have to charge to earn a living.
There's no smoke and mirrors – the prices shown are what you'll pay
I'm never going to win a beauty contest (too many Jaffa Cakes have seen to that). It's only right and proper that I introduce myself though, so click the button to learn more
Looking for an idea of the type of thing I do and what YOUR wedding could look like?
Have a look at my recent weddings to learn more.
Not a fan of massive boxes of electronic equipment being setup in the corner of your elegantly decorated wedding venue?
I have different types of setup to suit all venues and occasions
My mission is really simple!
I want YOUR wedding reception to be the BEST that you and your guests have ever been to!
Whether you're into a night of classic rock, a mix of party favourites which will fill your dance floor, or maybe something different, I'll work with you at every step of the way to ensure your wedding entertainment is a success from start to finish!
An experienced and professional Wedding DJ near Cambourne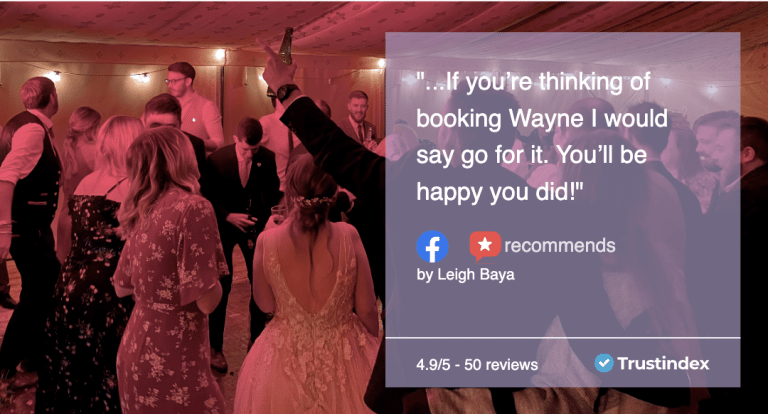 Are you looking for a Wedding DJ near Cambourne?
If so, I'd love to hear your plans for your special day and possibly be involved in just a small way.