[et_pb_section bb_built="1″ _builder_version="3.2.1″][et_pb_row][et_pb_column type="4_4″][et_pb_post_title _builder_version="3.17.6″ meta="off" featured_image="off" /][et_pb_text _builder_version="3.17.6″]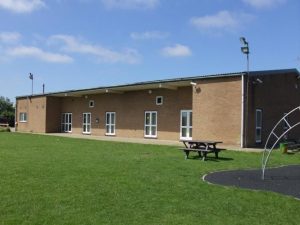 Witchford Village Hall is my local venue (literally 2 minutes drive from door to door), so it goes without saying I work here several times a year.
Witchford Village Hall offers the following facilities, catering for small meetings, carpet bowls, parties, wedding receptions, business functions etc:
Large function room (seating for 200)
Committee meeting room
Full kitchen facilities
Licensed bar
Car parking
I've had the pleasure of entertaining guests for a full range of functions in Witchford Village Hall, from community fundraising events to full on 80s nights and weddings. It's always a pleasure to work here.
How I helped a local Scout Group raise money with a party
Congratulations to Amy and Francois
A Gothic anniversary
A village wedding
The hall itself is spacious with a permanent wooden dance floor which can also be used for guest tables during events such as wedding receptions. The hall has also just recently had it's own speaker and wireless microphone system installed….perfect for a little light background music during your wedding breakfast and for being heard during those all important speeches!
As far as effects go, I'm allowed to use anything in the hall including smoke/haze, confetti, bubbles and snow. There is also no sound limiting equipment in the hall.
[/et_pb_text][et_pb_gallery _builder_version="3.17.6″ show_title_and_caption="off" show_pagination="off" gallery_ids="2785,816,715,714,6478,6458,6400,6384″ zoom_icon_color="#f2c6d9″ hover_overlay_color="rgba(255,255,255,0.9)" pagination_font_size_tablet="51″ pagination_line_height_tablet="2″ posts_number="8″ db_image_max_width_tablet="51″ db_image_max_height_tablet="501″ db_image_row_spacing_tablet="51″ db_image_object_fit="initial" db_image_center_titles="left" /][et_pb_text _builder_version="3.17.6″ background_layout="light"]
Contact information
Witchford Village Hall can be contacted in the following ways:
Address: Bedwell Hey Lane, Witchford, Ely, Cambs. CB6 2JN.
Telephone: Martin Skilbeck on 07717 817688
Website: http://www.witchford.org.uk/villagehall
[/et_pb_text][et_pb_cta _builder_version="3.19″ title="Let's talk!" background_color="rgba(0,0,0,0.02)" header_text_align="center" background_layout="light" border_width_all="1px" saved_tabs="all" global_module="6739″]
For a chat about YOUR wedding disco or party plans, why not get in touch and let's start planning an evening to remember!
By phone: 01353 771303
By SMS: 07873 707802
By email: enquiries@imagineentertainment.co.uk
Via Facebook: elysimaginedisco
[/et_pb_cta][/et_pb_column][/et_pb_row][/et_pb_section]